Concrete Line Pump
Stop using the ineffective wheelbarrows to convey concrete that needs many labors! Applying a concrete line pump to promote your project and shorten the cycle time!
Luton's competitive line pump offers you the best in quality and price. We keep upgrading our pumps and cater to any size of your projects.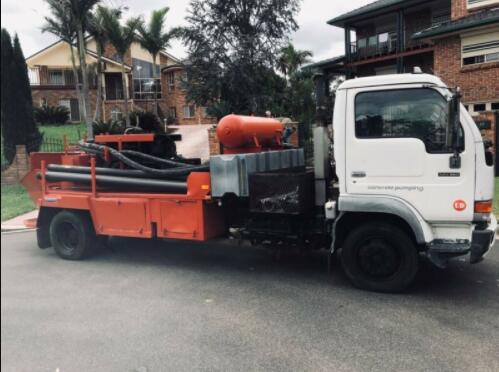 Competitive Price
save your money by 30%
Quick delivery
By sea, land, and air
Reach out to us to get a free quote!
Find Luton Concrete Line Pump Models
Luton's popular hot sales
Luton's concrete line pump for sale handles large commercial projects and small residential constructions. Our ground line concrete pump ensures the even mix, high-pressure pump, and precise conveying of concrete!
Whenever and wherever you need concrete pumping, our latest line pumps such as trailer line pumps and truck-mounted line pumps will do all concrete work!
Concrete line truck pump: HBCS 80
It is mobile and convenient to transit between worksites.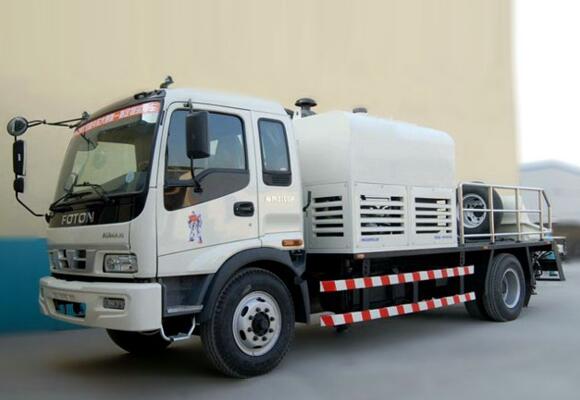 | | |
| --- | --- |
| Model | HBTS 80 |
| Max. Output capacity (m³/h) | 88 |
| Max.Concrete Pumping Pressure (Mpa) | 16 |
| Max. Vertical Conveying Distance (m) | 180 |
| Distribution Valve Type | S Valve |
Concrete line trailer pump: HBTS 40-11-82R
It is compact and easy to operate to save labor.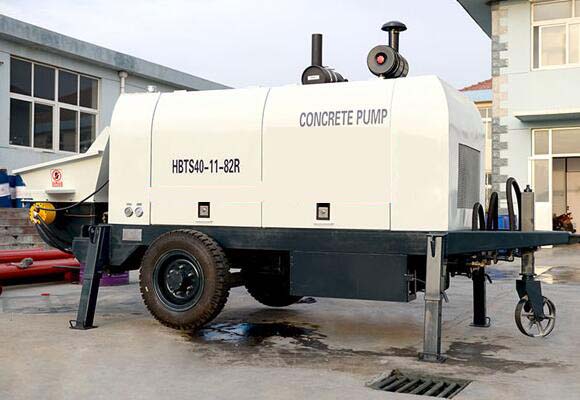 | | |
| --- | --- |
| Model | HBTS 40 |
| Max. Output capacity (m³/h) | 40 |
| Max.Concrete Pumping Pressure (Mpa) | 11 |
| Max. Vertical Conveying Distance (m) | 120 |
| Distribution Valve Type | S Valve |
Loyal Services, Good Experience

Luton's Concrete Line Pumps All Over the World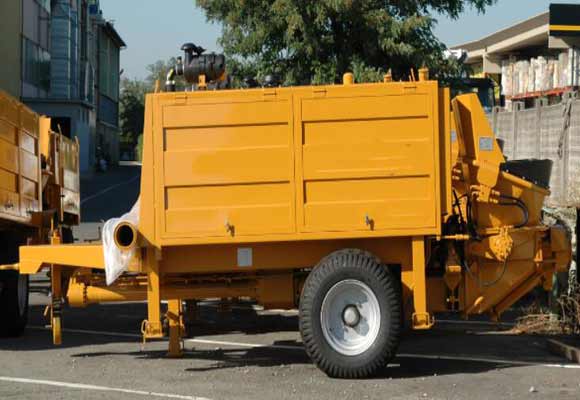 Luton small trailer concrete line pump in Canada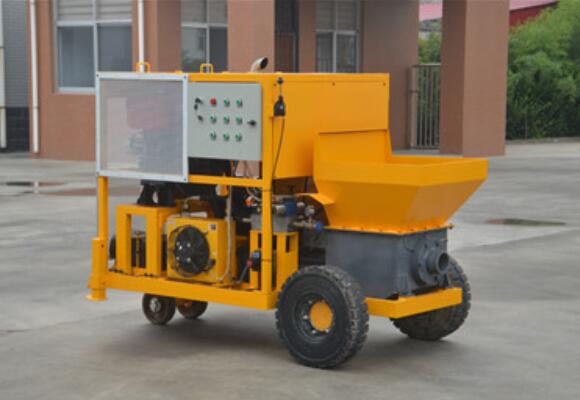 Luton static concrete line pump in Nepal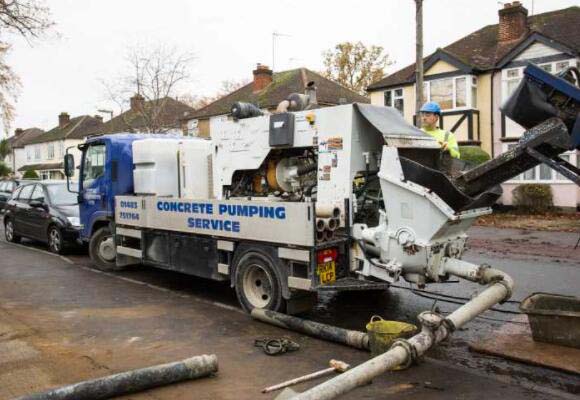 Luton line pump truck in India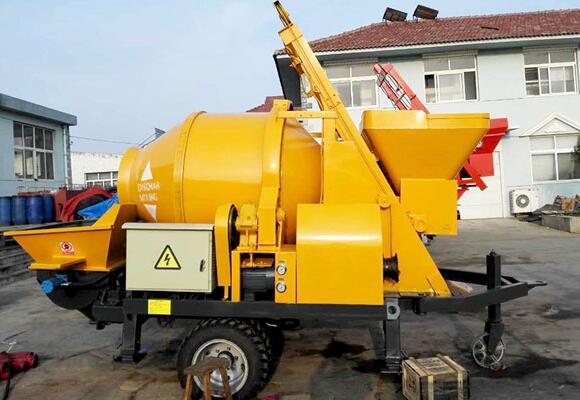 Luton concrete line mixer pump in Philippines
OUR PARTNERS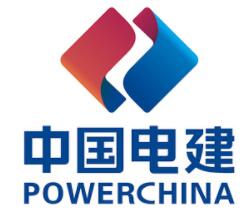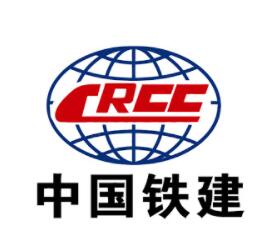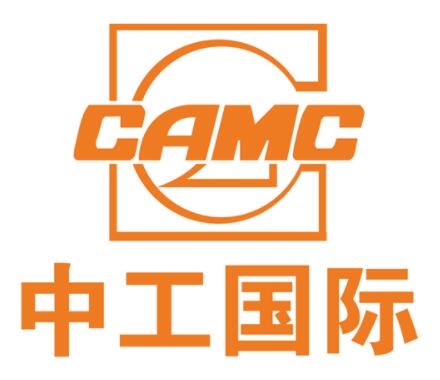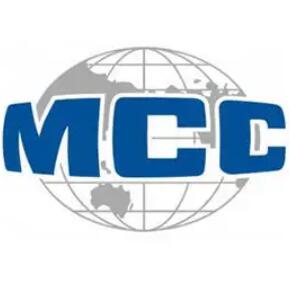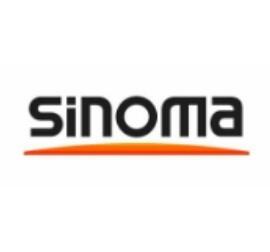 You can always trust Luton's strength and service!

Cooperating with lots of famous and large entrepreneurs, Luton is experienced in manufacturing first-class concrete line pumps for our customers.

Talk to us to find the right pumps now!
What Is a Concrete Line Pump?
A line concrete pump, or ground concrete pump is a piece of construction equipment that transports concrete under pressure through pipelines.

It continuously transports concrete horizontally and vertically. It is an ideal type of concrete transportation equipment.

The small line concrete pumping machine realizes continuous pumping and pouring of concrete.

The ground cement line pump is suitable for places where the boom pump cannot reach, and the pump pipe needs to be installed on-site, and it will be extended if it is necessary.

Generally, it is used for concrete transportation of large concrete projects such as high-rise buildings, high speeds, and overpasses.

Luton has a wide range of concrete line pump reaching over 200 meters vertical and more than 1000 meters horizontally for your options!
Also Read: How Far Can Concrete Be Pumped
Contact us to customize your own pump now!
Concrete Line Pump Operation Safety
(1) The construction personnel must be professional and concentrated when working and wear a safety helmet.

(2)The concrete ground pump must be set stable and firm. The tires must be removed for storage separately and stored in a protective shed, anti-smashing, or heat-preserving place.

(3) Before starting the machine, check the machine. Make sure the clutch, brake, and other protective parts work well. And clear the obstacles around.

(4) When the ground pump is operating, anyone is prohibited to repair the machine. Also, tools are not allowed to reach into the barrel to pick up materials.

(5) After the machine stops working, clean the hopper and pump pipes in time to prevent the concrete from sticking. Pull down the switch and lock the switch box before leaving the site.
Related:Concrete Pump Safety Tips
Use a Concrete Line Pump vs. Boom Pump
When you need a piece of equipment to convey concrete to where it needs to go, there are usually two options: concrete line pump and concrete boom pump.

Some people may hesitate about which one to choose, read the following points and make your best choice!
Concrete Line Pumps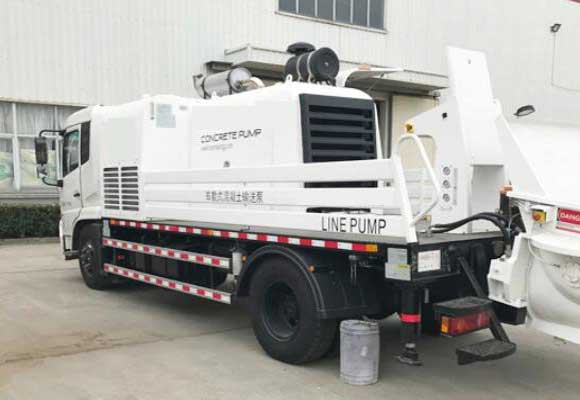 A line pump doesn't need a placing boom to place concrete precisely, and it pumps and transfers mixed concrete via pipelines or hoses.

On the construction site, for those high-rise buildings and narrow spaces that are difficult to reach by boom pumps, ground pumps can also be used to transport concrete.
Advantages Of Line Pumps:
(1) The mechanical conveying capacity is strong and the speed is fast, which can accelerate the construction progress, shorten the construction period and improve the work efficiency.

(2) It can be transported over long distances, and is not affected by the adverse effects of on-site construction roads and conditions.

(3) It is very flexible to move with high mobility and easy to operate since it is simple, so the workers can operate it after a quick training. Check our portable concrete pump mixer.

(4) The pumping of concrete transport vehicles reduces the pollution caused by the transportation of sand and gravel materials in cities and other areas.
Limitations of Line Pumps:
(1) It is relatively small for large commercial constructions.

(2) Need extra time to install pipelines.
Applications of Line Pumps:
Urban construction, bridge, power, and energy sources etc.
Concrete Boom Pump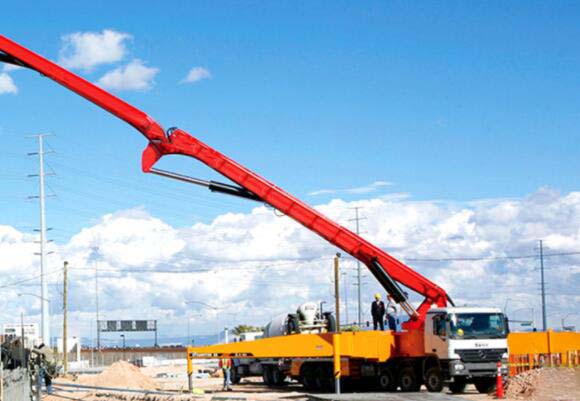 The main reason why the concrete boom pump got its name is that it can transport concrete to a certain height after mixing with a placing boom, which makes up for the shortcomings of other concrete pumps.

Compared with concrete line pumps, the concrete boom pump machine can transport concrete without manual pipe laying, which is very convenient in use.
Advantages Of Boom Pumps:
(1) The small pump truck is equipped with a boom for distributing, which integrates pumping, distributing, and driving.

It is very convenient for construction, convenient and quick for distributing, and the pumping speed is fast.

(2) The work efficiency is very high, allowing you to save time for taking over and reduce the blockage rate.

(3) The boom pump is equipped with a car chassis, so compared with the ground line pump, it can move independently and it can be quickly moved from one site to another.

(4) It can access the place that a line pump can't, and it can pump a large amount of concrete in a short time accurately and meet commercial needs when the construction work is busy.
Limitations of Boom Pumps:
(1) The convey height is limited, not as high as the line pump

(2) It is heavy and requires skilled workers to operate.
Applications of Boom Pumps:
Apartment construction, flyovers, high-speed railway, and other project requires lots of concrete
Suggestions for your project
If you are working on a residential project or other construction that requires less concrete in a short time, or the worksite is hard to access, a concrete line pump is the best option for you.

If you are a business contractor, working on a large-scale construction in need of a lot of concrete, the boom pump is the optimal choice for you to improve efficiency greatly.

Luton has been producing both static line pump, truck-mounted line pump, and boom pumps for 22 years, and our mature and advanced technology guarantees the highest quality.

Our concrete line pump can be customized according to your special need, contact us to get a pump now!

Reliable, Trusted, Experienced
LUTON GROUP – A leading manufacturer of the concrete line pump in China