When you place the concrete to the construction site, a concrete pump is a popular smart choice. It pumps the concrete easier, higher, and further than traditional ways. Then how far can concrete be pumped at maximum? Read the following content to get the answer.
How Far Can a Concrete Pump Boom Truck Reach?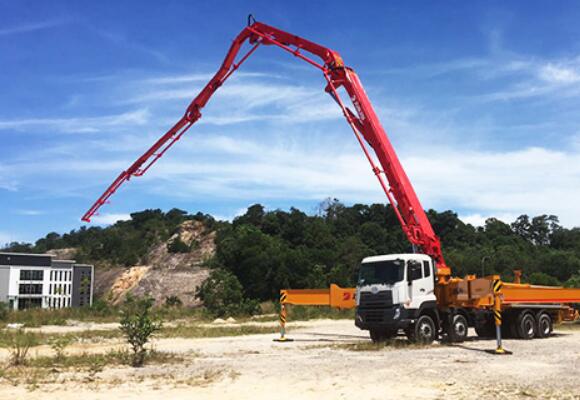 Concrete boom pumps are equipped with a placing boom, therefore the distance depends on the boom length.
Short concrete placing boom pumps reach < 30 meters.
Long concrete truck boom pumps reach 30 – 60 meters.
Super long concrete boom trucks reach > 60 meters.
The longest concrete boom truck is able to reach 101 meters.
How Far Can a Concrete Line Pump Reach?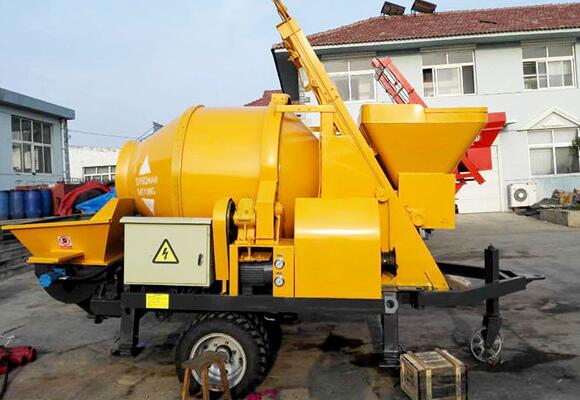 Concrete line pumps convey ready-mixed cement and concrete through pipeline and hose, which is able to send concrete to a higher place.
The concrete line pump has three types of concrete pump machines including trailer pump, mixer pump, and truck-mounted concrete pump.
Generally, the conveying distance: truck-mounted concrete pump > mixer pump > trailer pump
Trailer pumps can pump concrete pump vertically from 140 meters to 300 meters, horizontally from 450 meters to 1200 meters.
(Here are two types of trailer pump: Towable Concrete Pump and Stationary Concrete Pump)
Mixer pumps send cement and concrete pumps vertically from 120 meters to 300 meters, horizontally from 300 meters to 1000 meters.
Truck-mounted pumps convey concrete vertically from 150 meters to 220 meters, horizontally from 600 meters to 1200 meters.
How to Connect Pipelines to Reach Further?
The ground line pump pipeline can reach to further and here are tips on how to prolong pipelines.
1. The connection between the ground pump and pump pipe should be arranged according to the shortest distance and the least amount of elbow. It can not only reduce the pumping distance but also reduce the concrete conveying resistance.
2. The pump pipe should not touch the ground directly. And it should be at the bottom of the pad wood square, leaving a gap to facilitate disassembly, repair, and replacement.
At the same time check each pipe joints if they are tight. By doing this, it is to ensure that the connection of the pump pipe absolutely sealed to avoid leakage of slurry and air.
3. Make sure that the connection of the pump pipeline is firm and stable. Also, the elbow should be strengthened.
4. When building floors by using of upward pipe, the length of the horizontal pipeline is not less than 15% of the vertical pipeline length. Reinforce the vertical pipes on the upper floor, except the construction layer.
5. For downward delivery pipe, take Z-shaped pipeline in use to prevent the blockage caused by segregation.
6. When the distance of horizontal part of the pipeline is larger than its vertical distance, it needs to fix overhead. Fasten the piplines every 2 meters.
7. Wrap the rubber tires tightly to prevent friction and damage while strengthening the pipelines.
8. For safety reasons, concrete pumps should be placed within easy access to the service pipe to prevent injury or death due to a pipe rupture.
More informantions about concrete pump safety rules and tips)
Contact us to get professional pipeline options and more details about How Far Can Concrete Be Pumped.