Concrete Pump
Luton's concrete pump stands out for high quality, low maintenance cost, and long service life! Our concrete pumps fulfill all your requirements of concrete conveying!
Whether you need a pump machine with small concrete output or large concrete pouring for basement construction or high-rise buildings, we will find you a perfect and effective solution.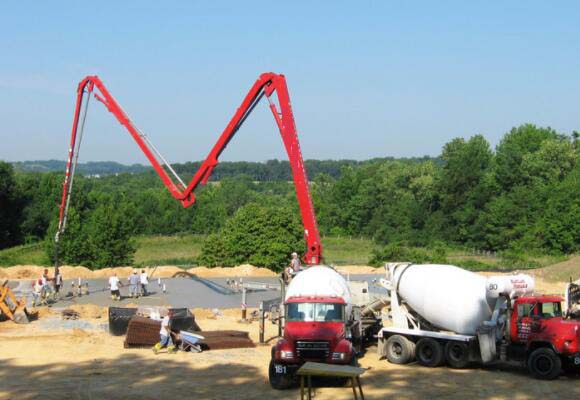 20+ years
20 years of experience in this field
100+ countries
Exporting pumps to 100+ countries
Reach out to us to get a free quote!
Our Main Concrete Pump Products
Luton provides reliable concrete pumps that perform outstandingly to get your work done as scheduled!

Our main products include concrete trailer pumps, truck-mounted concrete pumps, concrete boom pumps, and concrete mixer pumps.

At the same time, we strictly control all the machining processes and assembly quality as well as a final test to every pump in a way by simulation working conditions and overload experiments to ensure great operation and no-fault.
What Services Does Luton Offer to You?
Expert to solve problems before, during and after-sales
Fast delivery by sea, land, or air with low logistic cost

Expert engineers for your special requirements

Always online to offer help and advice to you
Why Trust Luton?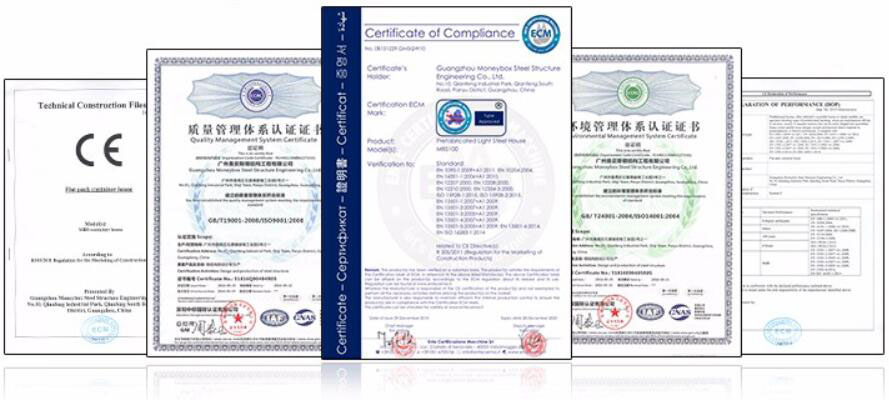 100+ Exporting Countries
Luton's concrete pumps have been exported to over 100 countries, including Laos, India, Thailand, Indonesia, Korea, etc., and gained positive feedback from customers.
80+ Famous Partners
Luton has built close and solid relations with lots of enterprises which are famous leading enterprises of infrastructure projects in China, such as Zhongming Zhuyou, China Railway, China State Construction…
20+

Honors and Patents
Luton adheres to the highest international standard and passe certifications of ISO 9001:2000 quality management system, CE, BV certificates. Also, we own 6 national patents and other advanced honors.
18,000+ Concrete Pumps Sold
Competitive advantages enable Luton to enjoy a large market share in this field. Therefore, we have sold almost 20 thousand concrete pumps and served countless commercial contractors.
Gaining Customer Satisfaction at 100%
Cost You Less, Benefits You More
"Luton's concrete boom pump really promoted my projects! To be honest, I do have concerns about it, and quickly, I know I've made the right choice! I customize a boom pump with a 36 meter-long placing boom, and is really meets all my requirements and it works smoothly!"

– Hasan from Indonesia
"Amy gave so many helps and cut my expense of the largest content. I really appreciate it! They arranged the shipment quickly, and everything goes quite well. It is really a trusted company."

– AbuBakr from Arab
Concrete Pumps, Better Results
Advantages of applying concrete pumps

Concrete pumping and conveying can be done at the same time by a cement pump. It is widely used in construction projects like urban construction, bridge, power, and energy sources, etc.

Meanwhile, it handles the pumping and conveying concrete all itself, which means the cost is relatively low for hiring fewer workers to transfer mixed concrete.

When applying the high-pressure pipe, the concrete can be pumped to a higher place over 100 meters vertically. Therefore, it contributes to alleviate builder's working strength and enhance production efficiency.

There are more advantages and reasons why you should apply concrete pumps rather than adopting the traditional methods.

Firstly, it can be used for large projects, which need large and continuous concrete pouring. It saves labor cost and construction time largely.
Secondly, pumping machine is able to convey concrete far and high. Some models can deliver concrete up to 1, 500m horizontally and 150m vertically.
Thirdly, it still work perfectly in bad weather, which shortens the construction time.
Further, a concrete pump can service lots of tough project construction that can be completed manually like tunnels, flyovers, water conservancy, high-speed railways, and so on.
Moreover, it ensures faster transportation thanks to truck chassis, allowing the machine to shift from one work site to another.
In addition, it is economical and productive especially for commercial use if you are a construction project contractor.
The concrete pump has strong adaptability to operate and interchangeability.
LUTON upgrade the concrete pumps to make sure they perfectly meet changing demands. What's more, our customized concrete pump is specifically for all your needs! Contact us to get a Luton concrete pump now!
Options to Finish Your Projects
What types of concrete pumps can you choose?
In general, concrete pumps can be classified into four types:

1. Concrete trailer pump
2. Truck-mounted concrete pump
3. Concrete boom pump
4. Concrete mixer pump

The trailer pump, truck-mounted pump, and mixer pump are usually referred to as line pumps, which indicates that this type of concrete pumping needs extra pipelines to convey concrete.
Also Read:Concrete Pump Price

Concrete Trailer Pump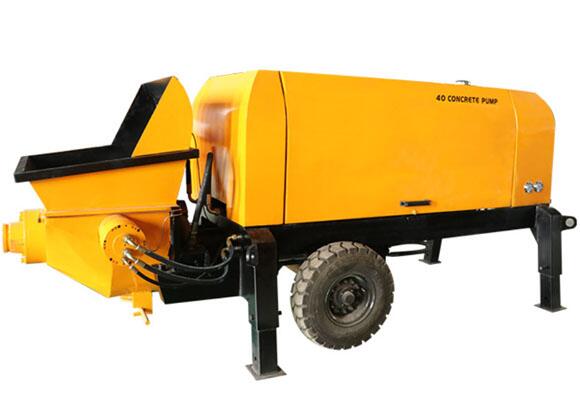 The concrete trailer pump is also referred to as the static concrete pump, stationary concrete pump, and trailer-mounted concrete pump. It requires extra pipelines or hoses to convey concrete to where it needs to go.
The concrete trailer pump is composed of a pump system and a delivery pipeline. It is a machine that uses pressure to continuously transport concrete along the pipeline. If there are tires, they can be towed to the worksites with a tractor. Meanwhile, by truck, pipes are transported to the distribution point.
A static pump with enough long pipelines can reach a far place where the concrete is poured (Several hundred meters or even a few kilometers). Therefore, concrete trailer pumps are essential for tunnel and skyscraper construction.
What's more, the range of capacities of static concrete pumps is much wider than that of mobile pumps.
From small pumps suitable for residential and low-altitude work to high-rise buildings, it can handle the various project needs with a pumping capacity of over 100 cubic meters per hour at maximum.
Truck-mounted Concrete Pump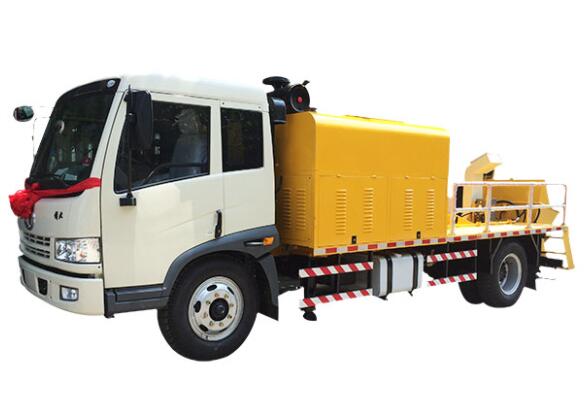 A truck-mounted concrete pump, also known as a ground pump, concrete truck static pump, is a static pump mounted onto a truck chassis. However, this type of concrete pump doesn't include booms.
It is kind of an up-gradation of the trailer pump, except that it can be moved on a truck. The truck-mounted concrete pump truck is easy to use, efficient, and fast owing to high movability.
Compared with the boom pump, the vehicle-mounted pump does not have an independent bracket. Since the vehicle-mounted pump does not have a boom, it needs to be manually installed with pipelines when in use. However, it can pump concrete to the height that the boom pump can't reach.
The mobility of truck-mounted static pumps has increased a lot. In order to meet the needs of fast special sites and construction sites, the pressure of the onboard pump is slightly lower than that of the trailer pump, and the displacement is increased. It is suitable for construction sites that can be completed in a short time.
Concrete Boom Pump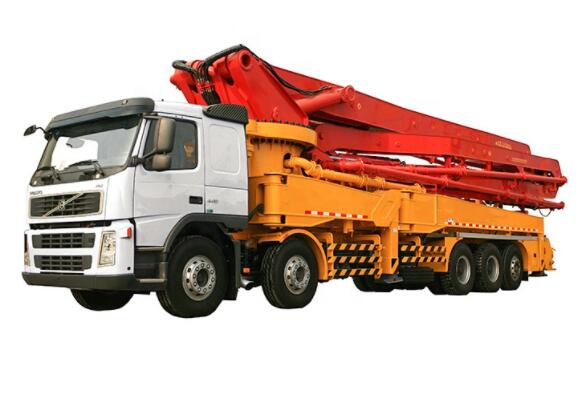 Concrete boom pump incorporates the cement pump and the placing boom, which are installed on the car chassis. It is a large-scale concrete conveying equipment, which uses a long placing boom to support the pipeline to convey concrete to a certain area.

The range of boom movement is from less than 20 meters to a height that can reach to more than 60 meters. This kind of mobile pump quickly pumps concrete to anywhere within the boom and can delivery concrete with a very high volume, which makes it very popular in the all range of construction projects, .

It is used for concrete transportation of large concrete projects such as high-rise buildings, highways, and overpasses. Due to its own size, structure and limitation of working height, there are many application requirements on the site.

Above all, concrete pumping truck fulfills point-to-point concrete conveying and flexible concrete placing.
Moreover, it is accessible to mountain climbing and other mountain roads. Besides, the pump outlet pressure is high, so it prevents concrete from blocking the pipe.
Related:101 Meter Concrete Pump
Concrete Mixer Pump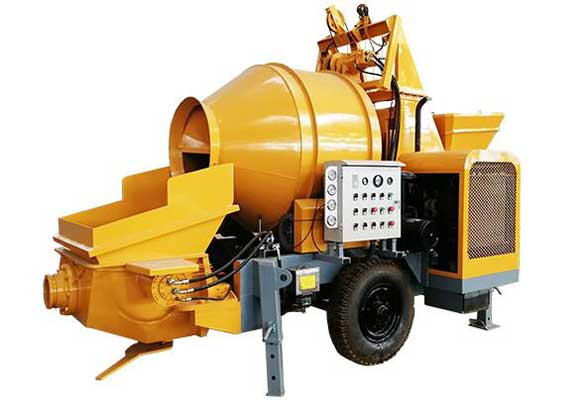 Concrete mixer pump is another option for concrete mixing and conveying.

The same as concrete trailer pump, mixer pump is featured as inexpensive price and small investment risk. Therefore, it is suitable for constructions in places where there are not many construction sources and low requirements for the quality and efficiency of pouring concrete.

The static mixer pump is suitable for projects on a fixed worksite. When transitioning to another place, it is necessary to tow the construction components to sites, such as generator sets, towed pumps, pipelines, forklifts, rotating supports, etc. There are too many tools to move, so it is not flexible enough.

In a word, static mixer pump is efficient and convenient, and more suitable for 5 to 10 floors housing buildings of the countryside and urban as well as new rural construction.
That is because that the actual vertical pumping height is 80 to 100 meters, horizontal pumping height is 150 to 300 meters.
Maintenance Tips of Concrete Pumps
To Prolong its Service life
Check pump before operating:
1. Check the laying and connection of each pipeline.
2. Check whether the water tank and hopper are filled with water.
3. Check the oil level of the hydraulic oil tank, whether the oil level of the grease pump oil tank is full, and if it is insufficient, fill it up
Notes on operation
1. During the pumping process, the concrete liquid level should be kept above the mixing shaft, otherwise material sucking and pumping is not allowed.

2. Pay attention to the oil temperature of the hydraulic oil during the pumping process. When the temperature rises to 50℃, the air cooling system should be started. If the oil temperature continues to rise and exceeds 80℃, it should be shut down and checked out.

3. If the pumping is suspended for a long time, the pump must be turned on every 10 – 20 minutes, run the pump reversely for 1 – 2 strokes, and then forward for 1 – 2 strokes to prevent the concrete from setting in the pipe.

4. In addition, during the pumping process, pay attention to the pressure gauge. If the pumping pressure suddenly rises, turn on the reverse pump button immediately, reverse the pump for 2 – 3 strokes, and then run forward again.

If the pumping pressure is still too high for several consecutive times, the pipe must be blocked. So the pumping should be stopped to deal with the pipe blockage.
No matter what kind of projects you are processing, Luton always provides you the most suitable pumps to ensure productivity. Contact us now to get a free quote!