What Is Concrete Pump?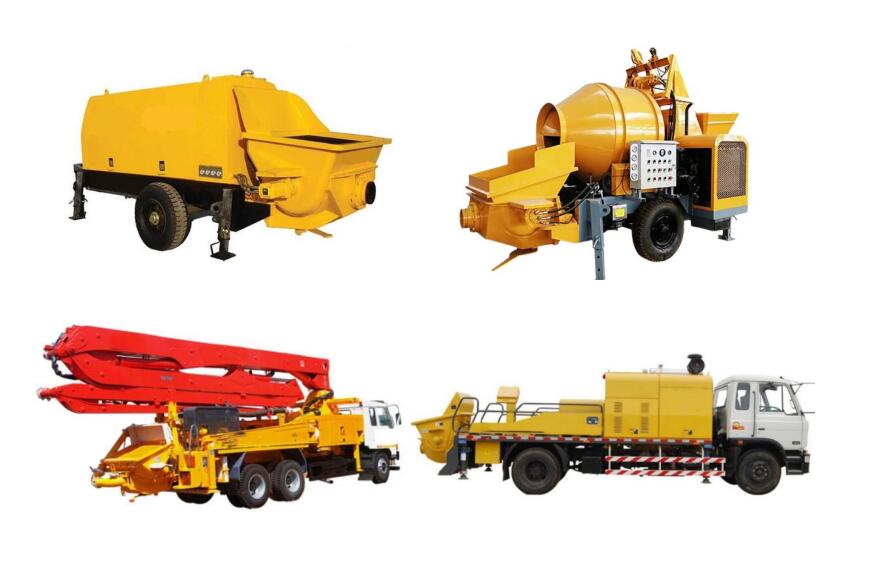 A concrete pump is a pump machine that delivers ready mixed concrete to constructions sites. It conveys and pumps liquid concrete fast and quickly through pipelines or placing booms.
Concrete pumping is the necessary process of delivering liquid concrete to the site location.
Many constructions project involve concrete displacement and infusion. However, the traditional concrete conveying and pumping method is not practical for large-size constructions, urgent projects, high-rising buildings.
Therefore, now a cement pumping machine is a better solution, which saves time and money and meanwhile enhances productivity. Besides, It can help you alleviate problems by simplifying the process.
Types of Concrete and Cement Pumping Machine
According to the method of concrete placement, the cement pump can be classified into two general categories: concrete line pump and concrete boom pump truck.
Concrete line pump
The concrete ​line pump conveys wet concrete through pipelines and hoses. In terms of movability and functions, the line pump can be classified into 3 types: trailer pump, pump with mixer, and truck with pump.
t

railer pump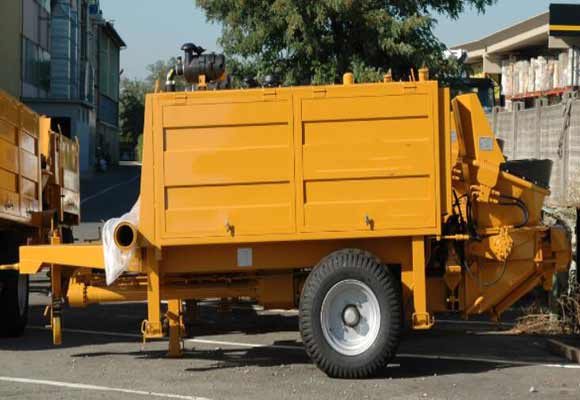 The concrete trailer pump is mainly composed of a pump machine and conveying pipelines. It is a kind of machine using pressure to continuously deliver concrete along the pipe, which currently mainly adopts an S-valve.
The stationary concrete pump is not able to move on the site and can be mounted on a vehicle. The mobile concrete pump has tires, which can be towed to the operation site, plumbed, and transported to the distribution point.
Advantages:
1. Operating cost is relatively high in minimum delivery height (compared to boom pump).
2. They are cheap and easy to maintain with low later maintenance costs.
3. Easy to move, and suitable for the limited workplace.
Applications:
Suitable for housing buildings, basement, slabs, tunnels, swimming pool, sidewalk, road repair
---
Concrete pump with mixer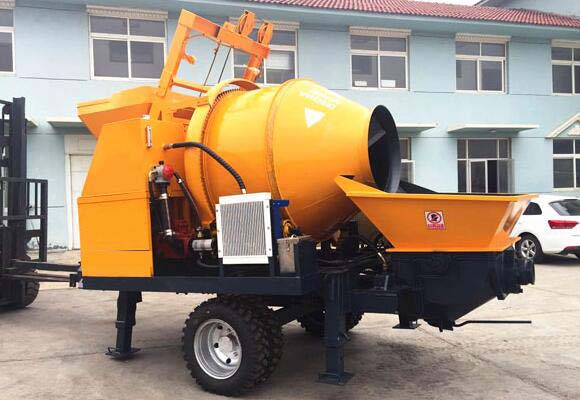 The cement pump with a mixer combines the mixing and pumping functions in one.
And usually, you have two options: the portable diesel concrete mixer with a pump and the mixer pump with an electric motor.
It has a smaller volume and therefore, it is more convenient than a large and medium-sized pump machine. So it is suitable for the construction of 5-10 floors in rural towns and new rural construction.
The vertical actual height of pumping concrete can reach 80-100 meters, with a horizontal distance of 150-300 meters.
Also, it needs pipelines to convey liquid concrete to the distribution points as well. Our mini concrete mixer with pump and portable concrete mixer with pump is on sale.
Advantages:
1. The price is lower with fewer investment risks.
2. Compact to transport and easy to operate
3. High work efficiency and high productivity
Suitable for:
Suitable for housing buildings, basement, slabs, tunnels, swimming pool, sidewalk, road pavement
Truck-mounted pump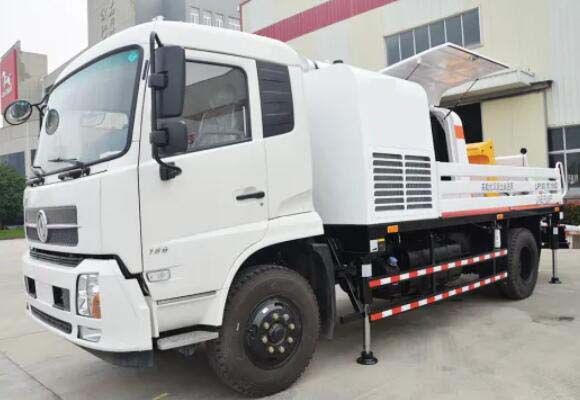 The truck-mounted concrete pump works almost the same as the trailer pump, except there is a chassis. It is more like the combination of the stationary pouring pump and a truck chassis.
Compared to the boom pump, it has no independent placing boom. Therefore, it needs to install a pipeline to transport concrete in use. However, the pumping height of the truck-mounted pump is higher than the boom pump.
The mobility has increased a lot. Therefore, in order to meet the needs of the high performance, the pressure of the car pump is slightly smaller than the drag pump.
It is suitable for construction sites that need to be completed in a short time.
Advantages:
1. Easy to transport concrete for a long distance
2. Adapting high-pressure pipe, and pumping concrete to a higher point
3. Easy to maintain and operate
Suitable for:
Commercial building, driveway, bridge, apartment, parking lot
Concrete boom pump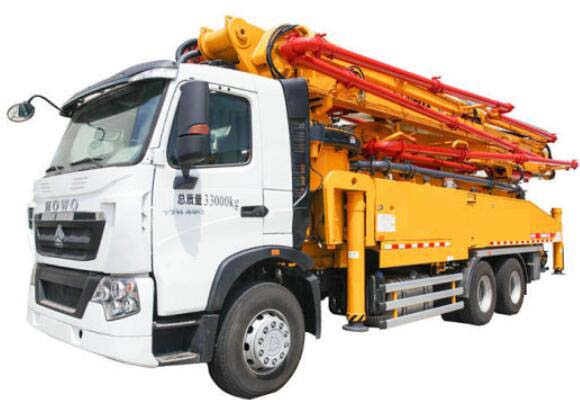 Different from the line pump, the boom pump places concrete via flexible placing booms. The pump machine is installed on the car chassis, and it is equipped with a retractable or foldable placing boom.
The commonly seen placing boom length is generally 18 m, 24 m, 25 m, 37 m, 42 m, 50 m. So far, the longest boom pump on the market now is Zoomlion's 101-meter super boom pump.
There are lots of requirements of the worksite regarding volume and pumping height. Thankfully, the pump truck is an all-in-one machine including driving, pumping, distributing, mixing function with highly accurate pouring.
Advantages of concrete boom pump:
1. The outlet pressure of the transport pump is high, preventing blockage
2. Short preparation time
3. Large concrete output per hour
4. Involves fewer laborers
Suitable for:
Low-and medium-level buildings and square quantities require particularly large complex sites
Famous Cement Pump Manufactures
Sany, Zoomlion, Putzmeister, Schwing Stetter, Liebherr, Alliance, Bobcat, etc are leading cement pump manufacturers.
Luton group is also a leading cement pump supplier in China with 22 years of experience in this field. We have exported 1, 8000 pumps to more than 100+ countries, and gained popularity among worldwide customers.
We are committed to providing you with high quliaty pumps and lower prices and the best after-sale service!