36m Concrete Pump for Sale
Z-folding 36m concrete pump for sale promotes the concrete placement efficiency with 150 cubic metres per hour capacity!
Lower unfolding height, larger working area, and greater accessibility bring our 36m concrete pump to over 100+ countries!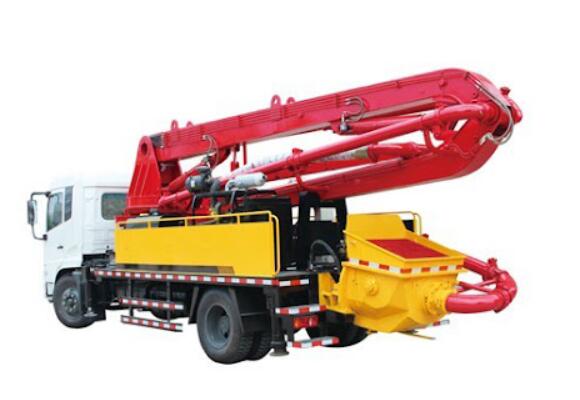 High-duty Controller
real-time diagnostics
Efficient Pump Unit
long service time
Reach out to us to get a free quote!
36m Concrete Pump Models Specifications
Luton's 36m concrete pump has high-quality configurations and components to deal with all medium size concrete pumping jobs. Check out our new 36m concrete boom pump model.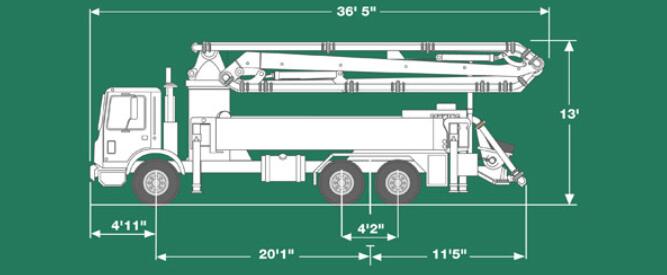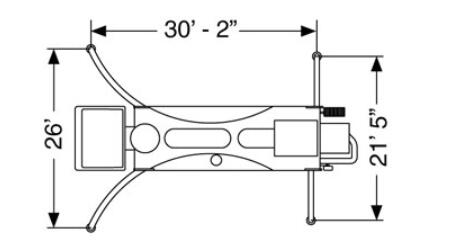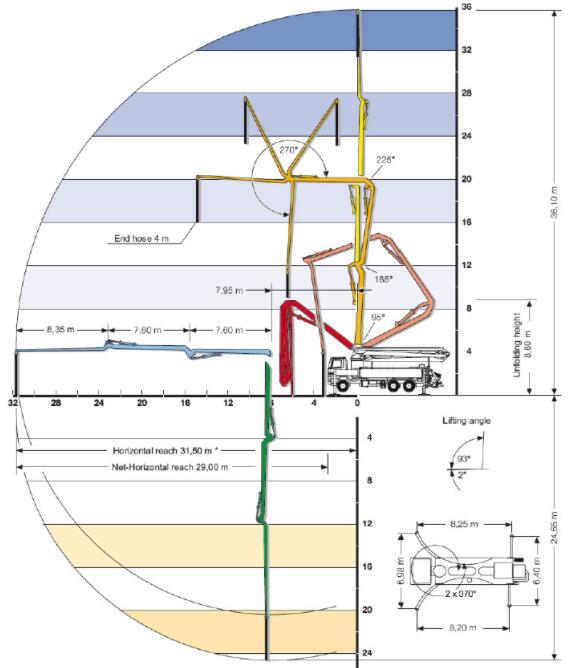 Boom specification
| | |
| --- | --- |
| Vertical Reach | 36.10 m |
| Horizontal Reach | 31.70 m |
| Reach from the front of the Truck | 29.75 m |
| Unfolding Height | 10.00 m |
Pump specification
| | |
| --- | --- |
| Max. Theoretical Output | 142 m3/h |
| Max. Pumping Pressure | 85 bar |
| Stroke Length | 2100 mm |
| Hydraulic System Pressure | 350 bar |
General specification
| | |
| --- | --- |
| Wheelbase | 5,461mm |
| Front-axle Weight | 8,936 kg |
| Rear-axle Weight | 15,921 kg |
| Water Tank | 700 L |
The price is affected by many factors, and needs to be negotiated, please contact us to get the customized price.
Our Certificates and Honors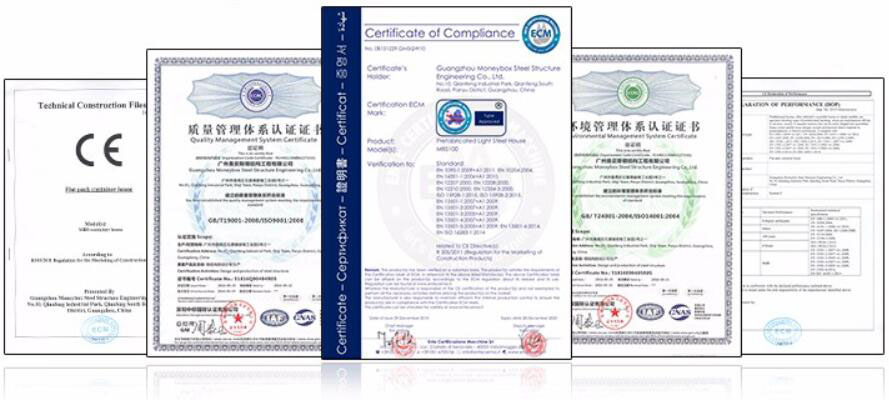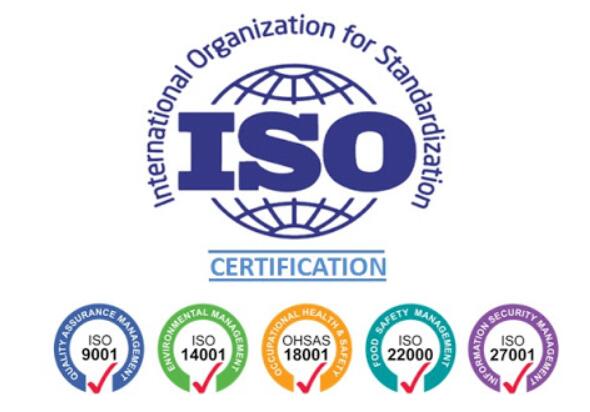 Luton has passed certifications and honorsincluding:
IOS 9001: 2000 quality management system
CE
BV certificates
6 national patents
Civilized Private Enterprise
Private Technology Enterprise
MSDS
Loyal Services, Good Experience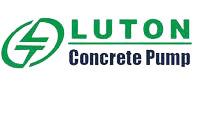 Only pay for what you get
Competitive price in China
Professional suggestions and help
36m Concrete Boom Pump Application
36 meter concrete boom pump is placing concrete pump for workshop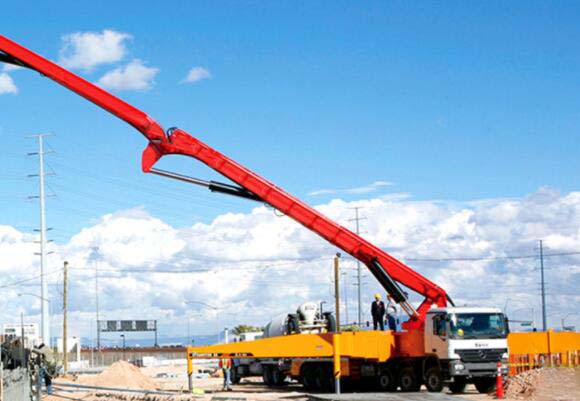 36 meter placing boom pump truck for bridges
Benefits of Using 36m Concrete Pump for Constructions
The 36m concrete pump has a lower unfolding height, making it more applicable for medium constructions.
The Z-folding placing boom with four sections ensures the smoother and flexible deployment with premium slip characteristics.
A shorter placing boom is featured as versatile and safe on job sites. It deals with low buildings, ceilings, columns, and base plates, and so on.
Logical, intelligent ergonomics and intuitive guarantee high work efficiency and concrete pumping speed owing to simple operation and smart control system.
Radio remote indicates all information during the working process to display real-time data needed to pay attention to. 
Weight reserves support the higher load and the compact structures allow low support widths.
The reinforced and sturdy base structure and compact boom pedestal enhance the stable performance and simply the boom line installation.
36m placing boom is considered as the short concrete pump, therefore the service cost and maintenance cost is lower than another long concrete boom such as 70 meter concrete boom. 
It is easy to clean out the remaining concrete, and easy to relocate, therefore it can finish multiple jobs in a day.
Configurations of Luton 36 Meter Concrete Pump for Sale
Our 36 meter-long concrete boom pump is equipped with various configurations and strong components to upgrade it. Check out the strong points of the configurations.
Flexible placing boom
The components are robust and wear-resistant with maintenance-free components and standard components. Imported high-quality parts with long service life save a lot of time and money.
The boom control response is very fast, the concrete transport lines are complex and sophisticated, and the steel structure is stable, ensuring a precise, smooth movement.
This makes sure the gentle actions with upgraded slewing gear drive.
Stable pedestal
The 36m concrete boom pump has also met the most stringent approval rules for weight.
It provides substantial additional load reserves and is ideal for workplace work requiring more accessories. Due to the expansion, there is enough storage to swing to support the legs and anti-slip plates.
Additional design construction details make the infrastructure particularly strong: clamp the length front expansion support legs and boom base, which is compact and manufactured as a single material.
Smart radio remote control
The superbe robust radio remote is much lighter in the hands, as it is not the only one that reduces weight, but is considered ergonomic design.
All displays can be the best read on larger, high-resolution color screens. Longlife, minimal self-discharge lithium-ion battery providing remote automatic supplies day was full of energy.
Alternatively, the remote control can be operated to use the cable and provide the current.
What is more, the machine operator can continuously access all of the information about the machine workplace, displayed on the color display of the radio remote control.
Strong pump units
The new technology can not only reduce the necessary amount of hydraulic fluid by up to 40% – 55%, it also supports organic fluids.
Another factor is the s transfer tube point, with a long material life even when wear-intensive, as the S transfer tube is enhanced by stacking welding.
The interchangeable pumps save fuels and the sealing system prevent oil leaks.
Service and Support Luton Provides to You
The service and help are necessary, especially for a beginner, we provide you the following service and support:
1. Before you purchasing our boom pumps, tell us your business and our expert will make a plan and solutions for you.
2. Offer you prompt help, advice, and reliable parts and accessories.
3. Send our teams and personnel to your place to help you with installing if necessary.
4. Provide necessary instructions and worker training.
5. Lifetime equipment repair services.
6. Regularly inspect the equipment and remind customers to maintain the equipment on time.
7. Provide a full range of technical consulting services