Do you know what is the largest concrete pump truck? There are so many players in the concrete pump market and they are challenging the extreme. Zoomlion and its Italian CIFA have researched and developed the super long truck-mounted concrete pump with 101 meter-long distribution boom.
The World Record: Longest 101 Meter Zoomlion Concrete Pump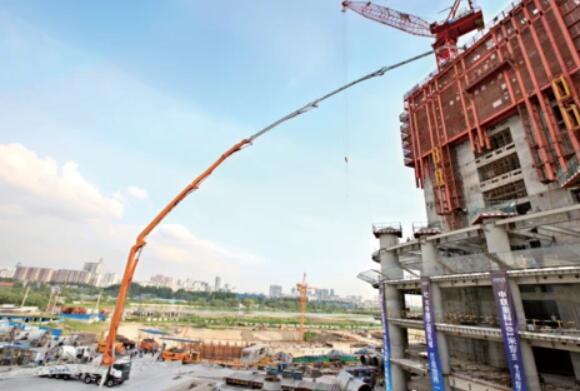 The present document owner is the Zoomlion 101-meter concrete pump. This record will last for a long time due to the fact that there is not much practical value to further increase the boom size.
It is said that the 101-meter pump truck adopts patented technology. For example, the mature carbon fiber boom reduces the pump boom weight by more than 40%, avoiding steel boom cracking. Also, it not only reaches a height of over 100 meters but also covers an area of 20,000 square meters.
Now let's take a close look to its chassis and boom.
Chassis
Zoomlion 101-meter pump vehicle makes use of a Scania 7-axle basic heavy-duty chassis. Its chassis features a 7-axis Scanian truck of the r620 with a length of 15.5 meters. The engine uses a Scanian v8 engine with a maximum output of 620 horsepower and a peak torque of 3,000 nm.
For the individuals' worry, they might be going to pick the 7-axle basic chassis, plus the global impact of the Scania durable brand name and trustworthy top-quality performance.
Boom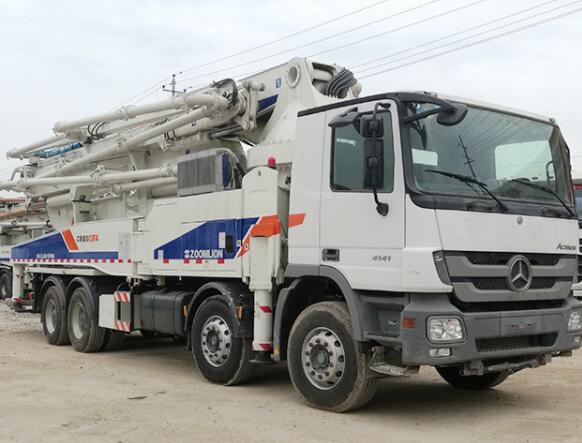 lt is really difficult to boost the size of the boom even by one meter. Today, 32 meters, 36 meters, 63 meters, 65 meters are the most frequently developed boom sizes.
Zoomlion 101-meter boom is 15 meters longer than Sany 86 meters. For the manufacturers, the issue to take into consideration is not just how to enhance the length.
The stamina of the boom material, the load of the boom, the processing of the boom equilibrium, and how to reduce the boom vibration, and so on, all of which need to be re-modeled from auto mechanics, products as well as lots of other aspects.
It adopts carbon fiber, high strength aluminum alloy, and ceramic materials to achieve the super long and lightweight boom. Such a boom is featured as shock absorption and intelligent control.
Advantages of Concrete Pumps With Long Boom
Though long boom concrete pumps cost more than line concrete pumps, they have more advantages than line pumps.
First of all, based on a truck chassis, a concrete boom pump can transport concrete product fast over long distance. It is flexible and suitable to many concrete construction projects sites with long distance and limited working place.
Secondly, with long boom, a concrete pump truck can convey concrete materials to certain construction area on site and finish pumping task in minutes efficiently.
Then, the delivering place is accutately reached by the control of the automatic electric system. What's more, the advanced electric control system make the operation easy, so no needs of many labors. Save labor costs for investors.
What's more, stable system and reliable components ensure the long service life and easy maintenance.
Certainly, the advantages of long boom concrete pump are not only these mentioned above. More and more customer receive lots of profits from their long boom pump. For more details on concrete pump with long boom, welcome contact LUTON GROUP. We are always waiting here for you.
LUTON Concrete Long Boom Pump
LUTON Group is also a famous manufacturer well known at home and abroad. They provide customer with professional service and high quality equipment. The specifications of LUTON 63m concrete long boom pump are showed below.
Specification of Pumping System
Model: LT63X-7RZ
Unit
Specifications
Max. Theor. output
m3/h
180
Max. Theor. concrete output Pressure
MPa
11.3
Rated working pressure
MPa
42
Hopper capacity
L
600
Distribution valve
S valve
Concrete cylinder dia.×stroke
mm
Φ260mm×2100mm
Max. aggregate dimension
mm
40
Specification of Placing System
| | | |
| --- | --- | --- |
| Structure type | | 63X-7RZ |
| Placing height | m | 62.1 |
| Horizontal distance | m | 56.9 |
| Placing depth | m | 46.4 |
| Pipe diameter | mm | 125 |
| End hose length | mm | 3000 |
| Min. height of opening placing boom | mm | 15830 |
| Outriggers span (front×rear×side) | mm | 12250×12820×11660 |
Specification of Chassis, the whole machine and others
| | | |
| --- | --- | --- |
| Engine power | kw/(r/min) | 3164/1900 |
| Tail gas exhaust standard | | CN Ⅲ |
| Lubrication mode | | Automatic lubrication |
| Oil tank volume | L | 800 |
| Control mode | | Manual+remote control |
| Water tank volume | L | 400 |
| Pipe cleaning mode | | Water cleaning/dry cleaning |
Get Your Own Concrete Pump
Luton provides you with a regular concrete pump truck and other types of concrete pumps.
Our concrete trailer pump and concrete mixer pump are both available and popular. Contact us now to get a free quote