Concrete pump truck cost is one of customers' focus. With high efficiency and outstanding performance, concrete pump truck is now the most popular concrete machinery. LUTON Group provides multiple models concrete pump truck with reliable quality and advanced design to meet various concrete requirement of construction projects.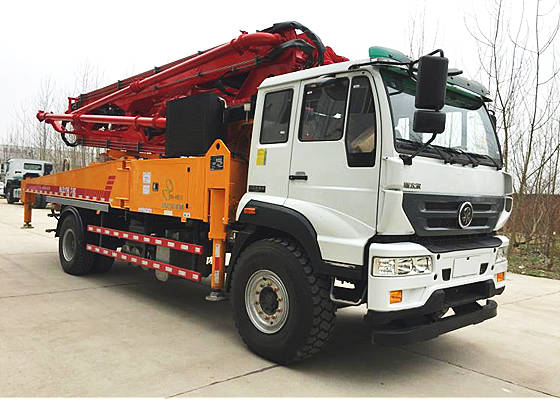 Efficient and Reliable Quality
Flexible and Convenient Performance
Stable and Durable Components
Professional and Thoughtful Service
How Much is Concrete Pump Truck Cost
Concrete pump truck cost for investors is reflected in diverse aspects, including pump truck purchasing cost, insurance cost, transportation cost, customs inspection cost, maintenance cost of truck and components, as well as cost of fuel, water and electricity, labor cost and local license fees, etc.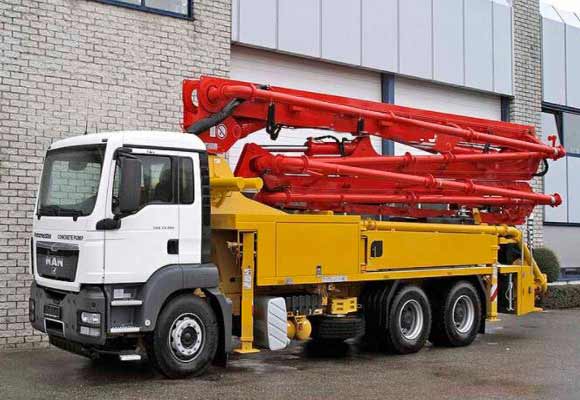 The core part of the whole cost is purchase cost of cncrete pump truck, which is most concerned about by consumers. How much is a concrete pump truck?
Concrete pump truck prices are different according to different brands, types, model configurations and so on. The price range of LUTON concrete pump truck products is about $45,000~$450,000. Such a price is in the middle position in the global concrete pump truck market price range. As LUTON concrete pump trucks increasingly sold well in the global market, the prices are likely to show a gradual upward trend.
How Much Does It Cost To Rent A Concrete Pump Truck
According to the statistics, the average cost to rent a concrete pump truck is around $5,000 a day. On the other hand, the average rental cost of a pump truck per hour is usually about $100 an hour and 800 dollars for the first 4 hours.
If you are a contractor who has a lot of concrete pumping job every day, the cost to rent a concrete pump will eventually hurt your pocket. It is possible that you found out your total cost on pump truck rental is as much as to purchase a new concrete pump. In this case, it is better to buy a new one.
So, should we buy a new concrete pump truck or rent one?
Consider the volume of concrete placing projects you do within a year. If you need a pump truck for almost days of your projects, it might make sense to buy your concrete pump
Hot Models of LUTON Concrete Pump Truck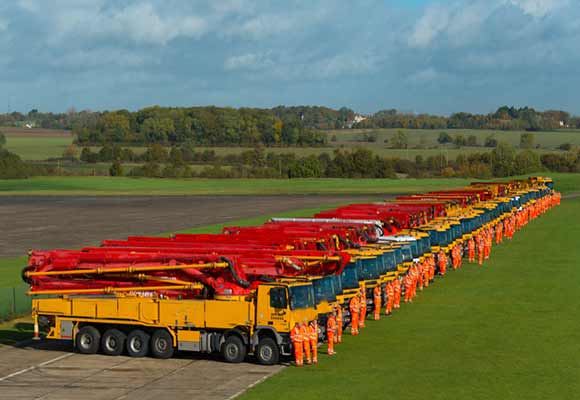 LUTON concrete pump trucks with small footprint, high efficiency, durable service life and outstanding performance provide various concrete solutions to meet commands of diverse construction projects. The vehicle chassis is made in China ensures the convenient maintenance and low cost.
There are several types in LUTON concrete pump truck products, including concrete boom pump, truck mounted concrete line pump, concrete mixer pump truck and so on. LUTON concrete pump truck cost from $45,000 to $450,000 according to the types from truck mounted concrete line pump to concrete boom pump.
Truck Mounted Concrete Line Pump
Truck mounted concrete line pump is one of leading products in LUTON concrete pump truck family. This kind of pump truck delives concrete materials through pipeline and hose, just like concrete trailer pumps. You can simply consider this type of pump truck as the combination of a concrete trailer line pump and a transporation truck. As soom as long enough pipeline, it can convey concrete to almost any construction point. Without installation and disinstallation, once the truck is on site and the pipeline is on ready, the concrete line pump on the truck is available to put in construction work.
LUTON Truck Mounted Concrete Line Pump Truck Cost Range: $45,000 – $95,000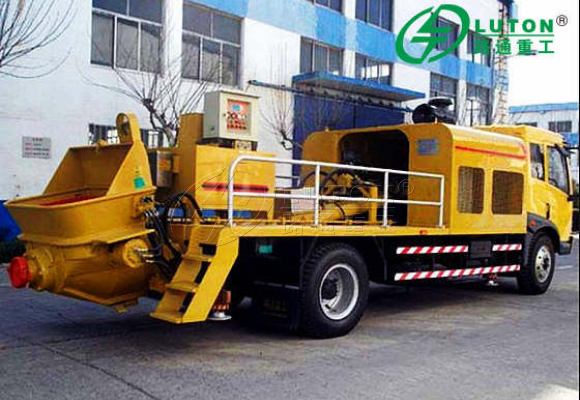 Model
HBCS100
Maximum Theoretical Concrete Output (m3/h)
100
Aggregate Size (mm)
Pebble≤50
Gravel≤40
Power (kw)
186
Conveying Cylinder Diameter (mm)
Ф230×1800
Hydraulic System Pressure (Mpa)
32
Type Of Distribution Valve
S Valve
Maximum Theoretical Conveying Distance (m)
1000/250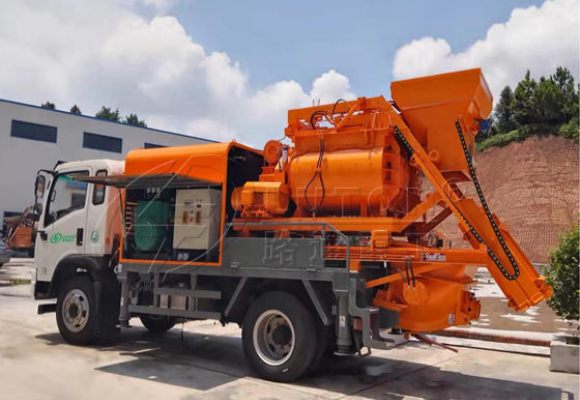 | | |
| --- | --- |
| Model | HBCJ50-9-45ES |
| Concrete output (m3/h) | 50 |
| Pump Pressure (Mpa) | 9 |
| Main Motor Power (kw) | 45 |
| Mixer Model | JS500 |
| Main Oil Pump Cylinder × Stroke (mm) | Φ100×1000 |
| Conveying Cylinder × Stroke (mm) | Φ200×1000 |
| Max. aggregate diameter (mm) | Gravel 40 / Pebble 50 |
Features of LUTON Truck Mounted Concrete Line Pump
It is equipped with hydraulic oil pump and valve group from German Rexroth, Japanese Kawasaki and other world-famous international brands.
The central electrical element is from Japan famous brand, Omron or Mitsubishi.
The oil cylinder is inlet-sealed, with high-low pressure switch funtion.
The famous home-made main cylinder, hopper, concrete cylinder and S-valve keep a reliable performance of the product.
The new-generation pump supported by electrical ratio control technique has infinitely variable control capacity.
Air cooling or water cooling system can be chosen according to operation environment conveniently.
With the streamline arc appearance, the product is more attractive and durable.
The hydraulic container and steel pipe are all after acid-pickling and phosphating treatments to keep a clean hydraulic system, which prolongs the service life of main pump truck, control valve and other elements.
Concrete Boom Pump Truck
Concrete boom pump is also callled concrete placing boom pump truck, thanks to its flexibility and high efficiency, boom pump truck is a hot sale in construction machinery market. There are different long boom pump trucks with or without concrete mixer units for sale in LUTON GROUP, for your selection, such as 14m, 30m, 37m, 44m, 47m, 50m, 58m, etc.
LUTON Concrete Boom Pump Truck Cost Range: $110,000 – $450,000
Small Concrete Boom Pump Truck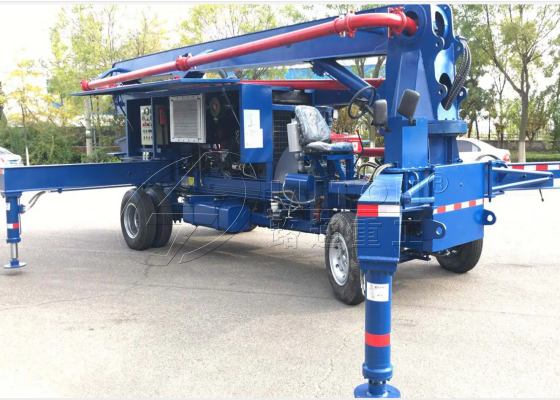 Flexible and Efficient Performance
Stable and Durable Quality
Long Service and Conveninet Operation
Small and Compact Structure
| | | |
| --- | --- | --- |
| Items | LTB40R-15 | LTB40R-21 |
| Max.theo.concrete output | 40m3/h | 50m3/h |
| Max.concrete pumping pressure | 10MPa | 10MPa |
| Vertical height of boom | 15.4M | 22M |
| Radius of place concrete | 13-16M | 20M |
| Leg open width | 5.5M | 5.5M |
| Diesel engine model | Weichai WP4G110E220 | Weichai WP4G110E220 |
| Engine power | 82KW | 82KW |
| Travelling diesel engine power | 32HP | 32HP |
Large Concrete Boom Pump Truck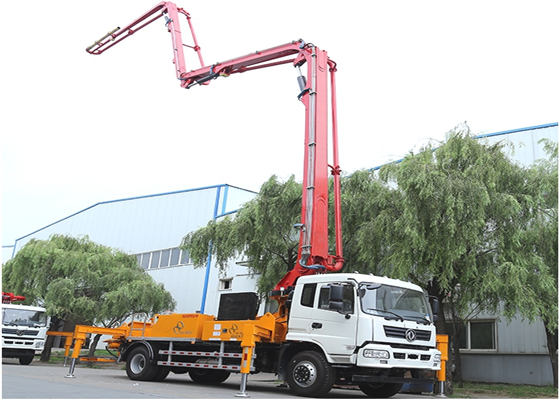 Flexible and Efficient Performance
Stable and Durable Quality
Long Service and Conveninet Operation
Small and Compact Structure
Items
30m
38m
40m
47m
50m
52m
56m
58m
Drive Mode
6×4
6×4
6×4
6×4
6×4
6×4
8×4
8×4
Displacement
11.8L
11.8L
11.8L
11.8L
11.8L
11.8L
11.8L
11.8L
Folded form
4Z
4Z
5RZ
5RZ
6RZ
6RZ
6RZ
6RZ
Boom vertical height
30m
38m
40m
47m
50m
52m
56m
57.1m
Boom horizontal length
25m
33.5m
35.6m
42.7m
44.3m
46.3m
50.9m
52.1m
Maximum theoretical
pumping capacity (m3/h)
85
145
145
200
200
200
200
200
Placing Boom Concrete Mixing Pump Truck
Placing boom concrete mixing pump truck, also known as concrete mixing boom pump, is a new type of concrete pump truck, composed of forced mixer and concrete pump truck, automatic feeding, mixing and pumping, achieved mechanization in construction. We adopt forced and double shaft mixer, not only fast in mixing, but also excellent in producing good-quality concrete.
What's more, placing boom truck save the process of fixing up and down the pipes, this would greatly reduce operators, save labor costs, and improve construction efficiency.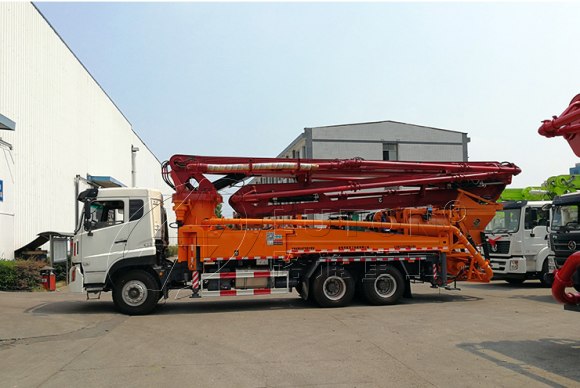 Model
LT5216THB21
Generator Engine
Straight 6 Cylinder
145kw/1800r/min
Boom Form
4 Section Hydraulic Fold
Platform Rotation
360°
Boom Horizontal Length/ Depth
19.73/23 m
Hydraulic System Pressure
20 MPa
Conveying Pipe Diameter
Φ125 mm
Features of LUTON Concrete Mixing Boom Pump Truck
Save the process of linking pipe, fully realized mechanization.
Improve the efficiency of construction, greatly reduce the labor intensity.
Save space of construction site and easier to change working site.
No longer worry about connecting electricity.
Four-section placing boom, flexible in spreading and folding.
CHHTC chassis with long lifespan and low maintenance cost working efficiently.
Mixer pump producing over 45 m³/h with small adjustment, satisfying demands of many conditions.
Pumping system flexible installed, reduce the impact to the chassis and the concrete piston wear.
Equipped self-diagnosis system, efficient in trouble shooting.
Intelligent in boom system, capable of booming vertical or horizontal automatically.
Controlling the amplitude within±0.3 m at the end, Mixer boom vibration control system is able to improve the operation by end hose.
Wireless remote control, simple operation.