61 Meter Concrete Pump
The 61 meter concrete pump meets the demands of large-scale construction, like shopping malls, theatres, and gymnasiums.
Luton has upgraded the 61 meters placing boom concrete pump truck to achieve high monitoring performance. And our latest technology allows controlling the placing boom to convey concrete accurately and safely.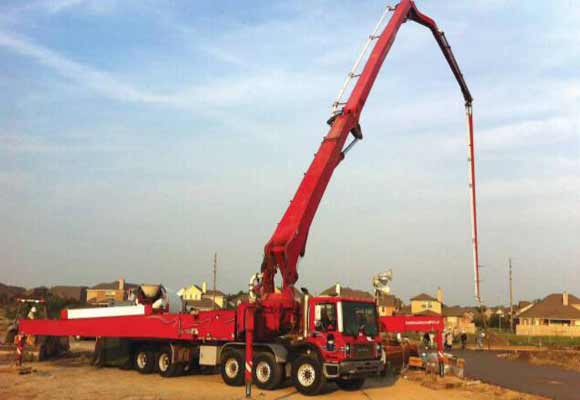 Reach out to us to get a free quote!
61 Meter Concrete Pump Specifications
Check for 61-meter truck-mounted concrete boom pump standard specifications: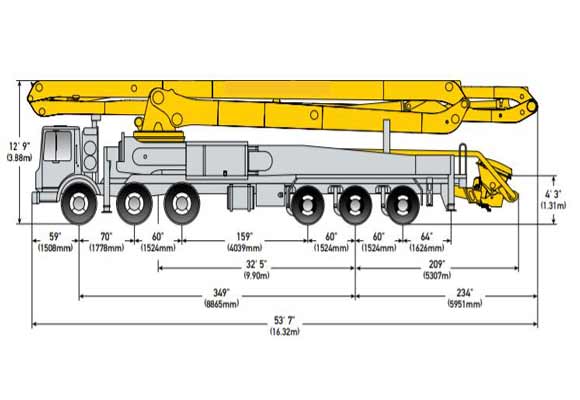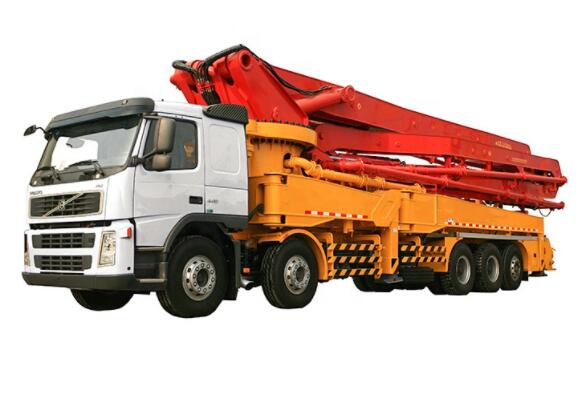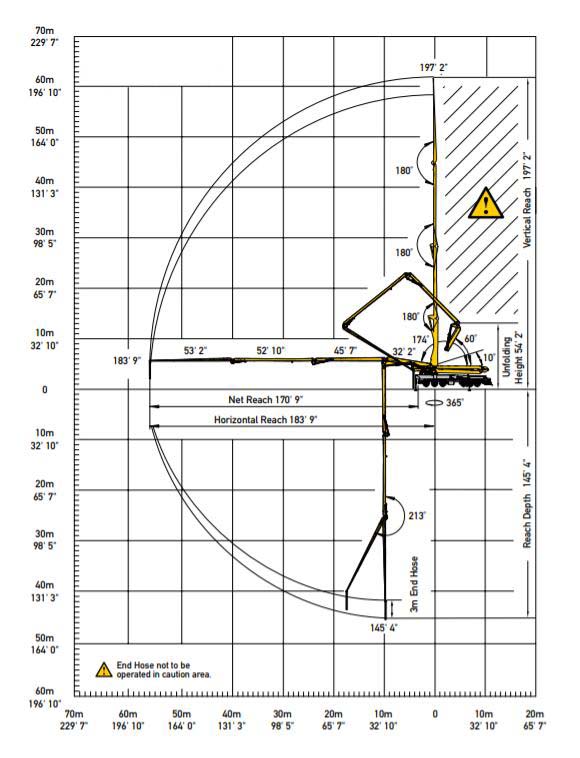 Boom specification
| | |
| --- | --- |
| Vertical Reach | 60.10 m |
| Horizontal Reach | 56.01 m |
| Reach from front of the Truck | 52.04 m |
| Unfolding Height | 16.51 m |
Pump specification
| | |
| --- | --- |
| Max. Theoretical Output | 160 m3/h |
| Max. Pumping Pressure | 85 bar |
| Stroke Length | 2100 mm |
| Hydraulic System Pressure | 350 ba |
General specification
| | |
| --- | --- |
| Wheelbase | 8,865 mm |
| Front-axle Weight | 25,524 kg |
| Rear-axle Weight | 25,342 kg |
| Water Tank | 780 L |
61 Meter Concrete Pump Truck Application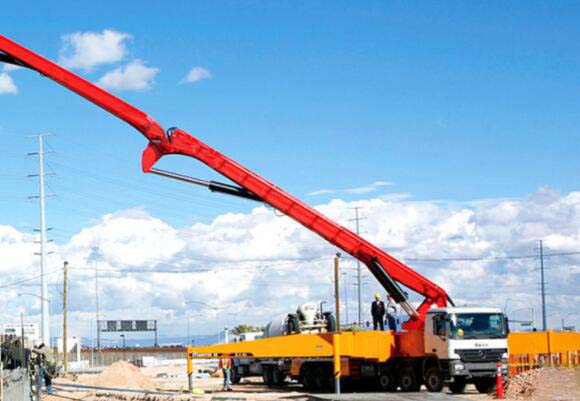 Luton 61 meter concrete boom pump is placing concrete pump for high-rising buildings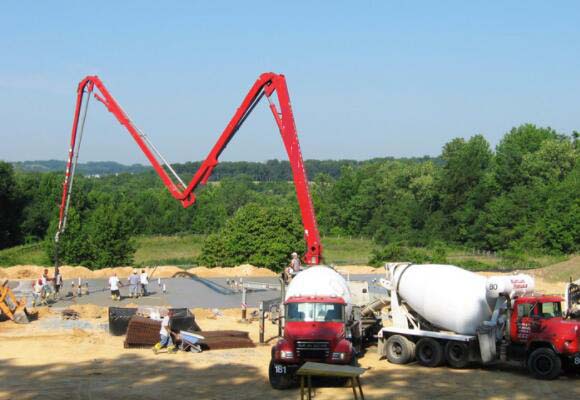 Luton super long boom pump is pouring concrete
Longer Pump Boom, Higher Reach
The concrete boom pump integrates motion and power transmission devices, pumping and mixing devices, distributing devices, and other auxiliary devices on the chassis.

Choosing the long boom concrete pump is investing in projects. The 61-meter concrete pump costs you more but it improves the work efficiency greatly, which means short the construction time. Therefore you are able to bid and start the new project as soon as possible.
To make it cleaner, pay attention to its output. The maximum displacement is more than 200 cubic meters/hour, and it is adjustable to meet the needs of various working conditions.

Therefore the large commercial output means higher reach. Long placing boom can finish more super large scale construction like building complex, higher-rising building, flyovers, and so on.

What's more, if you are working on a large concrete construction site, you may need more concrete pumps. Consider our stationary concrete pump and concrete mixer pump which are efficient and inexpensive. They are totally worth it!
See Luton's Strength in Each Component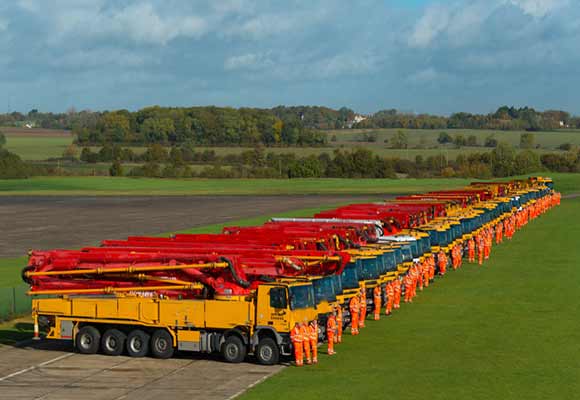 The concrete pump truck is composed of five parts: boom, pumping, hydraulic pressure, support, and electric control, which is a machine that uses pressure to continuously transport concrete along the pipeline.
In addition, the concrete pump truck is actually a concrete pump modified on the chassis of a truck with a long boom.
1. Multi-section boom technology:

Firstly, innovative patented 7R boom frame without material placing blind zone, and the material placement range is increased by 20% compared with competing products.

2. Boom anti-sinking technology:

Secondly, to prevent the boom from falling due to the pressure releases from the cylinder, the technology effectively protects the safety of the vehicle. And it is now a patent.

3. Newly developed pumping system:

Then, the suction rate is as high as 86%, which is 15% higher than that of the old products, and 6% higher than the competing products with smaller pumping reversing impact.

4. Power system energy-saving technology:

What's more, the engine speed can be adjusted according to different working conditions, and the comprehensive fuel consumption can achieve 0.7-0.85L/Cu.

5. Newly upgraded fault diagnosis technology:

At last, the automatic fault diagnosis target has been increased to 80, and the faults can be eliminated more efficiently.

Differences Between Concrete line pump and Boom pump
Concrete pumps are classified into two types of unique concrete pumping equipment. They are playing their irreplaceable roles in concrete pumping field. Their appearance changes the traditional pumping method and improves concrete pumping efficiency greatly. They make modern concrete conveying work more flexible and accurate.
Different types with different advantages are applied in different pumping tasks. Get the difference will help you to find the suitable concrete pump for your projects.
Concrete line pump VS Boom pump
Types
Differences
Advantages
Applications
Concrete line pump
1. Usually mounted on a trailer or a truck in a compact cabinet.
2. Convey concrete through pipeline.
3. Small appearance suitable for almost every projects
1.Flexible and swiftly move on site.
2.Accessible to many areas with limited space by hoses.
3.Super suitable for horizontal or close to ground pumping.
4.A very economical solution for concrete pumping.
small constructionSmall residential constructionSuch as swimming pool, housing, driveway repair and other projects on narrow sites etc.
Concrete
Boom pump
1. Actually is a special truck with concrete mixer and pumping boom.
2. Convey concrete through long boom.
3.With folding robot arm, is much larger than concrete line pump.
1.Convenient and super fast massive conveying 2.No needs of many labors3.Easy transition to another site
large scale construction of dams, bridges, highways etc.
Regulations on Operating Concrete Boom Pump
In order to ensure the safety of the construction, it must be noted that the boom can be operated only after the concrete pump truck's outriggers are properly supported.

1. During the operation of the boom, follow the order of the instructions strictly.

First of all, if there is anything goes wrong during operation, press the emergency stop button immediately. Besides, it can be used only after the professional has found out the cause and eliminated it.

2. The boom pump can't be used when thunderstorms and a strong wind comes.

In addition, you should be careful of the risk of electric shock caused by near high-voltage lines. Therefore, keep a safe distance between the boom and the wire.

3. Any people are prohibited to stand within the specified range of the end hose.

At last, when the concrete pump truck starts pumping, keep away from the hose. Because it may injure people or spray concrete and cause accidents. It is dangerous when starting the pump.
Three Ways to Set Outriggers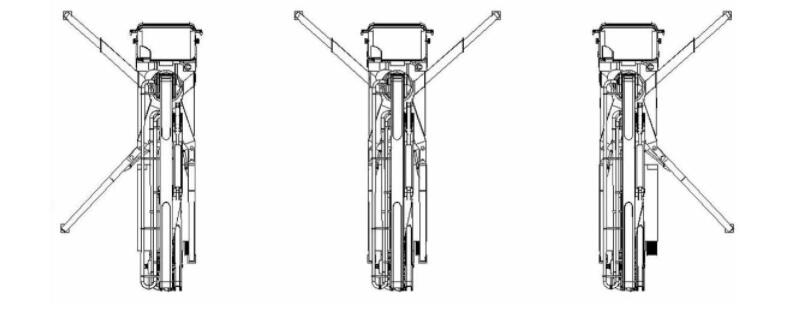 For a mobile concrete pump truck, the outriggers must be set up firmly before everything starts. Here are three ways to set up the outriggers.
Set up outriggers on both sides:
At first, in terms of a boom pump truck, this method is used to fix the chassis so that it cannot be displaced during work.

Setting up outriggers on both sides is the safest way. However, if the workplace is small, it is not convenient enough.

Therefore, the designer has developed a single-sided support method for different scenarios.
Set up outriggers in the front:
Then the first single-sided support method is setting up the front outrigger.
In the working process, only the front outriggers of the pump truck need to be deployed, while there is no rigid requirement for rear outriggers.

In fact, the rear wheel of the chassis is on the ground. Therefore, the two front outrigger legs and the tires on the ground can also form a relatively stable triangular structure.

It is suitable for the situation where the construction direction is directly in front of the truck. However, the boom can only be rotated within a certain angle otherwise, and there is a risk of overturning.
Set up outriggers on the single side:
What's more, there is also another single-side support way, setting up outriggers on the single side.
In this way, when the boom truck works, the outrigger on one side of the truck is deployed, and there is no rigid requirement for the outrigger on the other side.
Therefore, the left and right unilateral supports are suitable for situations where the concrete pouring position is on both sides of the vehicle body.

The construction site road is narrow and all outriggers cannot be deployed. Therefore, only the left and right unilateral supports can be used. And the rotation range of the boom will be larger than other methods.