Introduction of 38 Meter Concrete Pump
Are you looking for prominent concrete pumps to invest in construction field? Here is a type of long boom concrete pump, 38 Meter Concrete Pump, designed for constructions requiring large amount of concrete in a short time.
LUTON 38 Meter Concrete Pump is a truck mounted concrete pump with super Z folding boom, ensuring high performance and maneuverability. It is widely used in both small new rural projects and large urban building construction, bridge buildings, overfly and highway projects, and so on.
In addition, the upgraded X type outriggers strongly ensures the safety and stability.
LUTON 38 meter concrete pump with low maintenance cost and high productivity is an ideal solution for large scale construction projects.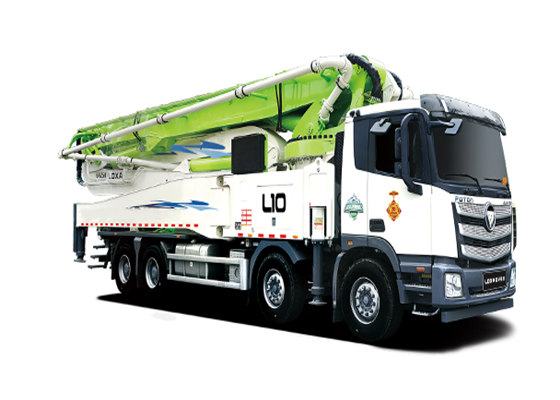 Reliable Performance
Efficient Productivity
Reach out to us to get a free quote!
Configurations of LUTON 38 Meter Concrete Pump
The standard configuration will help you to get more details about LUTON 38m concrete pump.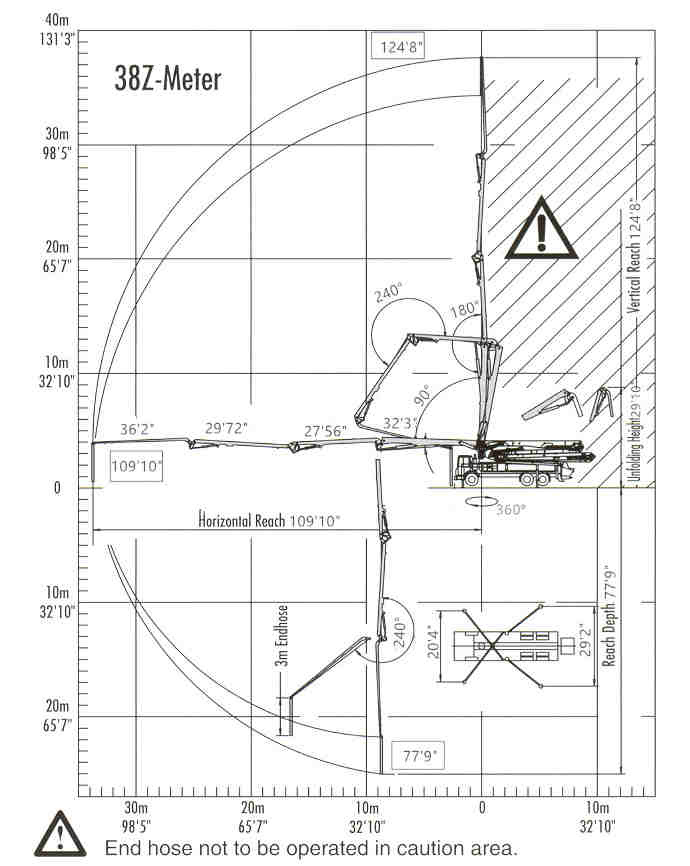 Boom Specification
| Content | parameters |
| --- | --- |
| Vertical Reach | 38m (124'8") |
| Horizontal Reach | 33.5m (109'10") |
| Unfolding Height | 9.1m (29'10") |
| Feeding Height | 1.54m (5'00") |
| Rotation Angle of Turntable | 360° |
| Reach Depth(including hose) | 23.7m (77'9") |
| Outrigger span (front×rear) | 6200mm×8900mm |
| First Section Length/Articulation | 9830mm / 90° |
| Second Section Length/Articulation | 7965mm / 180° |
| Third Section Length/Articulation | 8020mm / 240° |
| Forth Section Length/Articulation | 8185mm / 210° |
Pump Specification
| Content | parameters |
| --- | --- |
| Max. Theoretical Output | 34 ml/r |
| Max. Pumping Pressure | 7.5 MPa |
| Stroke Diameter/Length | φ260mm / 1900mm |
| Hydraulic System Pressure | 35 MPa |
General Specification
| Content | Parameters |
| --- | --- |
| Boom Type | Z folded 4 section arm |
| Commutation Control | Closed electric control |
| Maximum Gradeability | 40% |
| Minimum Ground Clearance | 28mm |
Features of LUTON 38 Meter Concrete Pump
Truck mounted concrete pump with 38m boom is a type of high efficient long placing boom concrete pump with perfect features and good performance. It is the ideal choice for customers to invest in the large scale concrete producing and conveying.
Light Weight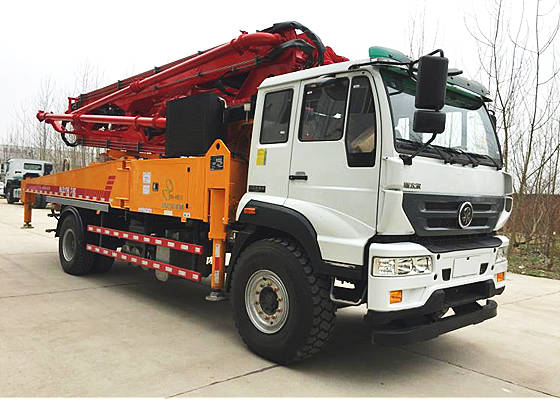 Back on the research and development of lightweight boom structure and processing technology, adopting the use of high-strength steel plate, weight of LUTON concrete pumps are reduced by 10%. In this way, LUTON products is lighter than similar products.
Also, more stable performance, with frequency conversion anti-fibrillation function, the boom is more stable.
High Resistance Wear Parts
Important components are all supported by international famous brands. More durable, they have 50% longer service life than similar parts. New wear resistant materials, processes and technologies are adopted to greatly improve the life of wearing parts and reduce maintenance difficulties.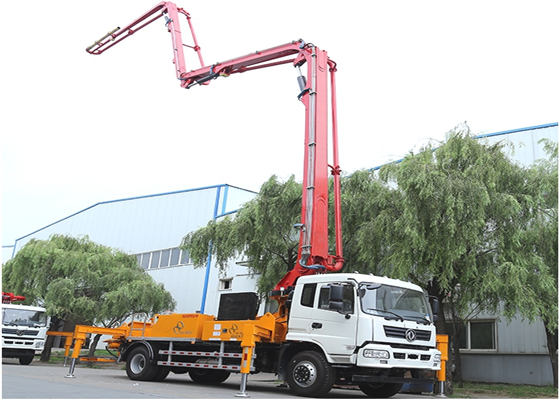 Flexible and Reliable Structure
The overall size of the boom pump truck is small. Flexible 38 meter concrete pump with good performance is capable to deal with the problems of narrow roads and narrow space in urbanization construction. In one word, the truck is easy to move, flexible, stable and safe.
Efficient Pumping and Easy Maintenance
Not like the concrete line pume trailer with pipeline, the pumping system is equipped with large diameter conveying cylinder, with the advantages of good suction performance, less reversing times, large outlet pressure and high pumping efficiency. It not only reduces wear and tear, but also reduces operating costs.
Good Power Driving performance
Adopting Yuchai, Weichai and other famous engines with advantages of low speed and high torque, the whole truck passed the environmental protection test.
Authentic German-made Rexroth hydraulic pumps supports good performance, high pumping quality and working efficiency.
Automatic Operation System
Luton 38 meter concrete pump is equipped with easy-to-use operator controls and an operator-friendly remote. What's more, manual engine override and easy-clean hoppers are all available.
Moreover, multi-feed pumping suitable to delivery multiple types of materials.

Cost Saving
Adaptive energy saving, labor and equipment saving as well as time saving.
Fault self-diagnosis
Fault self-diagnosis help to locate and solve the problems immediately.
Photos and drawings are for illustrative purposes only. Dimensions will vary with different truck makes, models and specifications.
For available options and other LUTON Concrete Pump Products, please contact the professional consultants of LUTON GROUP.