32 Meter Concrete Pump
32 Meter concrete pump is the first choice for inside constructions thanks to the lowing unfolding height. It is also the solution for other structures like bridge decks and high-rising buildings.
Luton's 32 concrete boom pump featured as lightweight, smart controlling, and less energy-consuming. Very versatile for common residential and commercial construction jobs!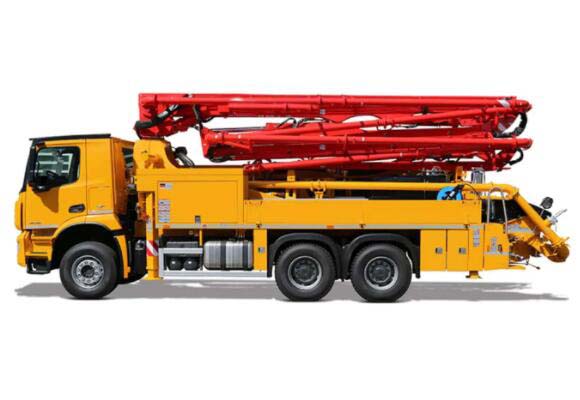 Reach out to us to get a free quote!
32 Meter Concrete Pump Specifications
Here are diagrams and 32 meter concrete pump truck specifications: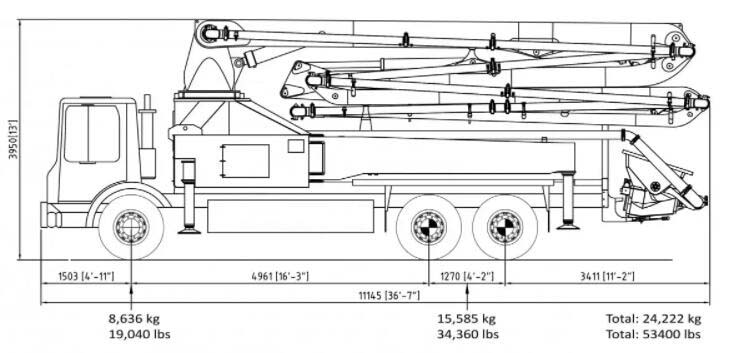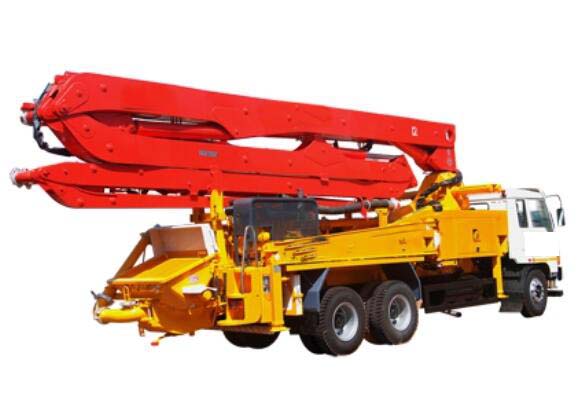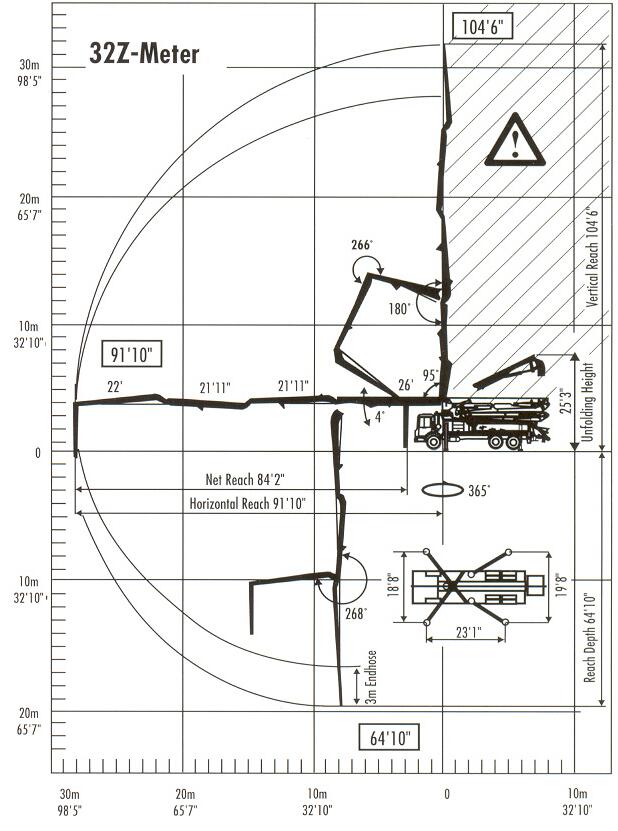 Boom specification
| | |
| --- | --- |
| Vertical Reach | 31.6 m |
| Horizontal Reach | 27.6 m |
| Pipeline Diameter | 125 mm |
| Unfolding Height | 7.55 m |
Pump specification
| | |
| --- | --- |
| Max. Theoretical Output | 170 m3/h |
| Max. Pumping Pressure | 69 bar |
| Aggregate Size | 63 mm |
| Oil Flow | 480 L/min |
General specification
| | |
| --- | --- |
| Stroke Length | 2000 mm |
| Front Spread | 6.3 m |
| Rear Spread | 4 m |
| Water Tank | 500 L |
32 Meter Concrete Pump Truck Application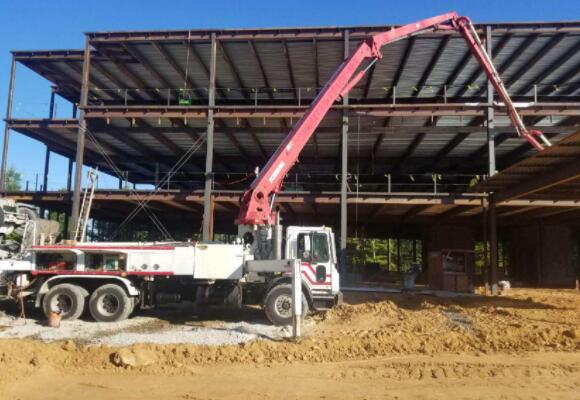 Luton 32 meter concrete boom pump is pumping and placing concrete for roof and crossbeam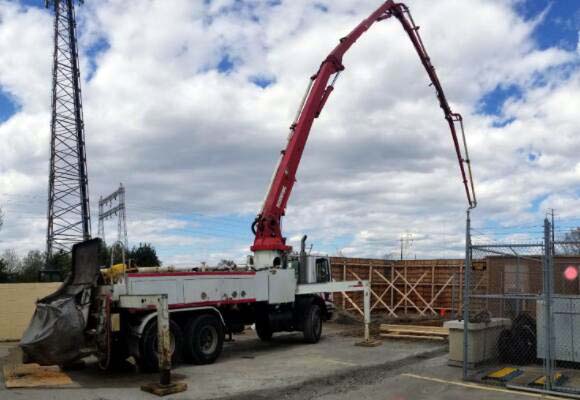 Luton 32m boom pump for garage
32 Meter Boom, Designed for Your Jobsite

For most small and medium construction jobs, pumping and conveying concrete is a high labor-intensive work, costs you more time and money.

Without the right pumping machine, it could put off your projects since laborers can not continue working in certain conditions.

The 32-meter boom is perfectly designed for projects that need large concrete output in open areas.

Mounted on a truck chassis, the boom pump is extremely convenient for placing concrete with high flexibility.

Our concrete boom pumps have been upgraded, therefore, it is more lightweight than the previous ones. And the 5- sections Z-type boom fold saves more space and are easy to operate with more possibilities of angles.

32-meter concrete boom pump truck is the solution when you are working on:

1. commercial and residential construction jobs

2. buildings, parking lot, and driveways.

3. indoor structures and basements

4. middle size and overhead constructions
Looking for other high-rise concrete pumping? Check it out now!
See Luton's Strength in Each Component

Market investigation and research show that the building height is generally low in some urban, and there is a large demand of 32-meter pump trucks.

Moreover, the high-rise pump trucks are expensive, which is unaffordable or unworthy for some contractors with limited budgets.

For this reason, Luton focus on researching and developing this unique and highly cost-effective 32-meter pump truck. The four-section arm Z-type boom system can quickly open and fold to adapt to a narrower construction worksite.

The concrete pump hydraulic system adopts an open system, which ensures a good pumping effect while reducing the cost. The combination of manual control and remote control can adapt to various complex working environments.

The biggest feature of this pump truck is that it has an independent power system that can provide strong power for pumping.

The pumping system and boom control system are independent of the walking chassis. Even if the chassis fails, the pump system can still work and conveying concrete through the boom extended.
Maintain Concrete Boom Pump to Extend Service Life
The concrete truck boom needs regular maintenance to prevent cracks in the placing boom, therefore we need to inspect the structural parts of the boom on the pump truck.

After all, good maintenance will prolong its service life to save money on repairing or buying a new one.
(1) Check the stability of bolts and seals. Check the connection between the front and rear axles of the pump truck chassis and the transfer case.

(2) Remember to check the wear of each connecting pin to prevent the joint from cracking due to excessive gaps in the pump truck boom.

(3) It is worth noting that the boom must be placed on the bracket to check the tightening torque, so as to eliminate the axial force on the slewing bearing shaft.

The new boom pump truck must be inspected after 100 hours of operation, and an inspection must be enured every 500 hours of operation.

(4) When tightening the bolts, all the booms must be folded up while maintaining the vertical position. It is worth emphasizing that if the damaged connecting bolts should not be reused.

(5) After working for a period of time, there will be cracks caused by stress, oxidation, and corrosion. If the boom pump truck has worked for 300 hours, be sure to check the welds of the boom and other structures.

(6) The structural cracks of the concrete pump truck can be repaired. Be sure to check it every time, and the sooner the treatment, the better.

The load-bearing parts such as the boom of the pump truck are made of high-strength steel, so do not randomly drill or repair welding to change his intensity.
Three Folding Types of Placing Boom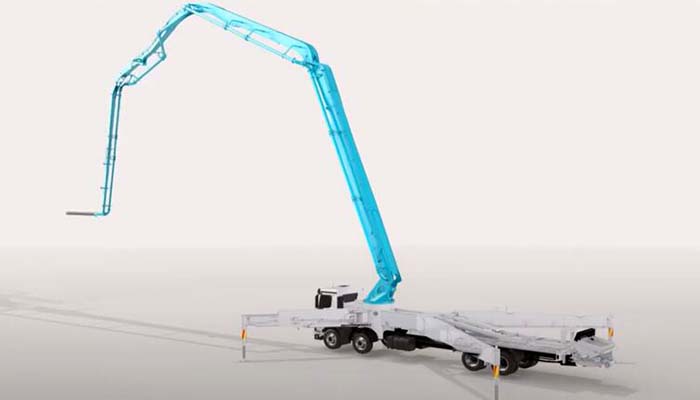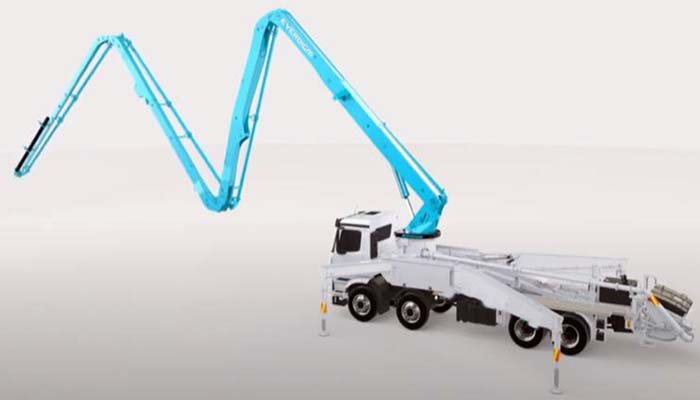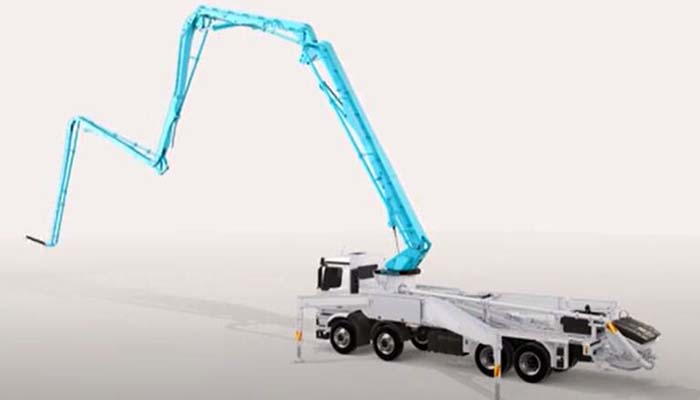 There are different folding types for multisection placing booms, which are also designed according to your needs. Check out more folding types below:
2-section booms fold
Generally, two-section boom concrete pump trucks can adopt two folding methods. The first one is folding up because the first section boom is above, so the center of gravity of the price ratio is lower, which is beneficial to the stability of the whole truck.

The second method is folding down, which makes it easy to unfold.
3-section booms fold
It should be pointed out that the three-section arm folding method has 6 commonly used combinations according to the position of the fulcrum and the folding method.

The structure of the R-fold boom is relatively compact, while the Z-fold boom is low but quick when opening and folding. Therefore, in actual operation, these two folding methods are also more commonly used.
4-section booms fold
Compared with two-section arms and three-section arms, four-section folding methods have more combinations.

Commonly used in construction are M-fold, S-folding, RZ-fold, etc. Among them, the RZ shape is a combination of the two basic methods of R and Z folding.
LUTON GROUP with long experience of construction machinery manufacture for more than 20 years, focus on solutions of concrete producing and conveying. LUTON has now developed into a sophisticated manufacurer in concrete machinery field in China. Our products spread to more than 100 countries all over the world.
Hope to supply the best concrete pumps for all your small or large construction needs!